Who wins the game in a sports event?
The person, who practices a lot, has luck by his side and follows a strategic approach. Likewise, a well-planned thought process, analysis, and plan could help you stand out and be at the forefront of the game in a marketing game.
And what do you need to plan?
Yes, the data. Without having precise information, you can't move forward. Data is the raw resource that marketers need to refine and use accordingly, and it helps in the analytical approach.
So, now as we understand the importance of data, how do we proceed from here?
Collect data from all the sources that you think could be useful. Later, you can sift through and segment the data. The relevant one could be used for planning effectively in an email campaign.
As per a finding, almost one-third of email marketers send 3-5 emails to a precise audience every week.
The entire process is possible with the help of accurate marketing data. In the current world, it helps in the process: reaching out to convertible prospects, having a valuable and result-oriented conversation, surge in sales, customer relationships, and others.
Find some intelligent email tactics to get a windfall of leads via data:
A cardinal sin if emails are not personalized
Upselling and cross-selling
Helps segregate customers
Demographics building a strong relationship
Data to help you send webinar emails
A Cardinal Sin If Emails Are Not Personalized:
We know customers like personalized emails.
And personalization isn't rocket science. You need to have accurate data to study your potential customers' behavior and accordingly design email. This process would save your and your recipients' time.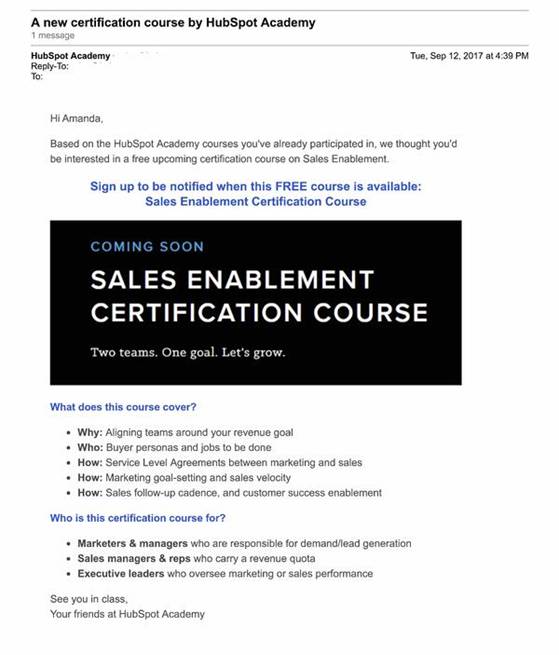 Image Courtesy: hubspot.com
In this example, the brand crafted a personalized email for the customer. In the initial line, the brand mentioned that it's a sales enablement certification course. The following paragraph said what the system would cover next to who this certification course is for.
The entire email shows that the prospect searched for this information, so the brand included complete information and details that would motivate the customer to go for it.
Just imagine what it would have been without data?
You won't be able to design this helpful email and connect with your customer for better results. You'd act like somebody without a reasonable goal to achieve.
Upselling And Cross-Selling:
Interact regularly with your existing customer, as they could boost your upselling and cross-selling process.
You also need the data; how would you know what product the customer purchased last? The information stored gives you the right picture of that customer's preferences. And when you have that, you could approach them with the latest and premium version of the same product. Existing customers most likely would acquire that product as they are already using an akin one and would like to try the novel one.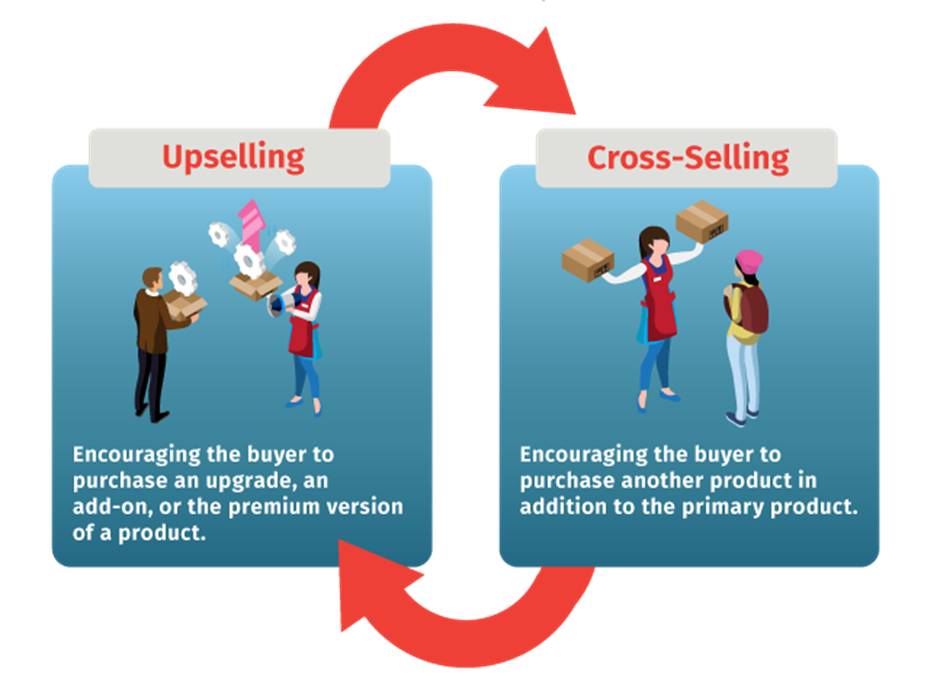 Image Courtesy: global-hitachi-solutions.com
People who don't know what upselling or cross-selling is all about?
Upselling encourages buyers to purchase an upgraded version, while cross-selling encourages buyers to buy another product, including the primary outcome. Both processes aim to increase sales and revenue for the organization.
Helps Segregate Customers:
If you want to deliver results, you need to send targeted emails to each set of customers. The entire process infused with data leads the process on the right path.
For example, if you want to send a cart abandonment email, you can't send these emails if you don't have data; the same goes for sending win-back emails.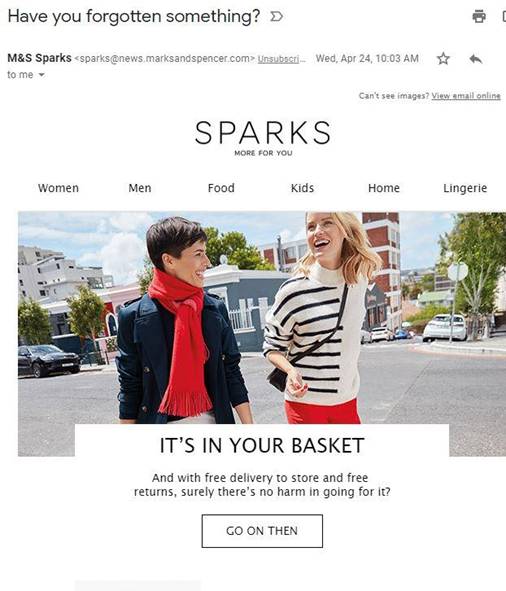 Image Courtesy: abtasty.com
In this email, you can see how the brand designed a cart abandonment email. It had the specific data to craft the message and motivate the customer to complete the purchase. The message is crisp, "it's in your basket." It then proceeds with "free delivery to store…." It acts as bait.
Without referring to precise data, you can't design the right one to send to customers, and it could lead to opportunity loss and a decrease in sales.
Demographics Building A Strong Relationship:
You must have heard a good data helps build strong relationships with customers
How?
Marketers could know customers' preferences and accordingly converse with the customer. They build up a rapport with the customer and win their trust with time.
This is crucial in an organization where it's difficult to have loyal customers.
And for all this, demographic data plays a crucial role. This data includes location, name, age, gender, etc. Most customers spread across the world have different preferences. It might be social, environmental, or other reasons, so if you have specific data of that region, you can develop an optimized email to send to that customer.
Just as you can check this data, the open rate average of a campaign in all the countries is different. So are the click-through rate, unsubscribe rate, and others.
Don't you think this data would help you?
It would help you analyze why the case is different for the same campaign in all countries. There is no secret mantra to find it out; a step-by-step approach and guidance via data could help you do so.
Data To Help You Send Webinar Emails:
Webinar emails have become a crucial part of a strategy. But do marketers send these emails to all customers? Not really
These emails are mostly sent to high-valued customers, who are expected to have a long-lasting relationship or high revenue generator for the organization.
Find the below webinar email: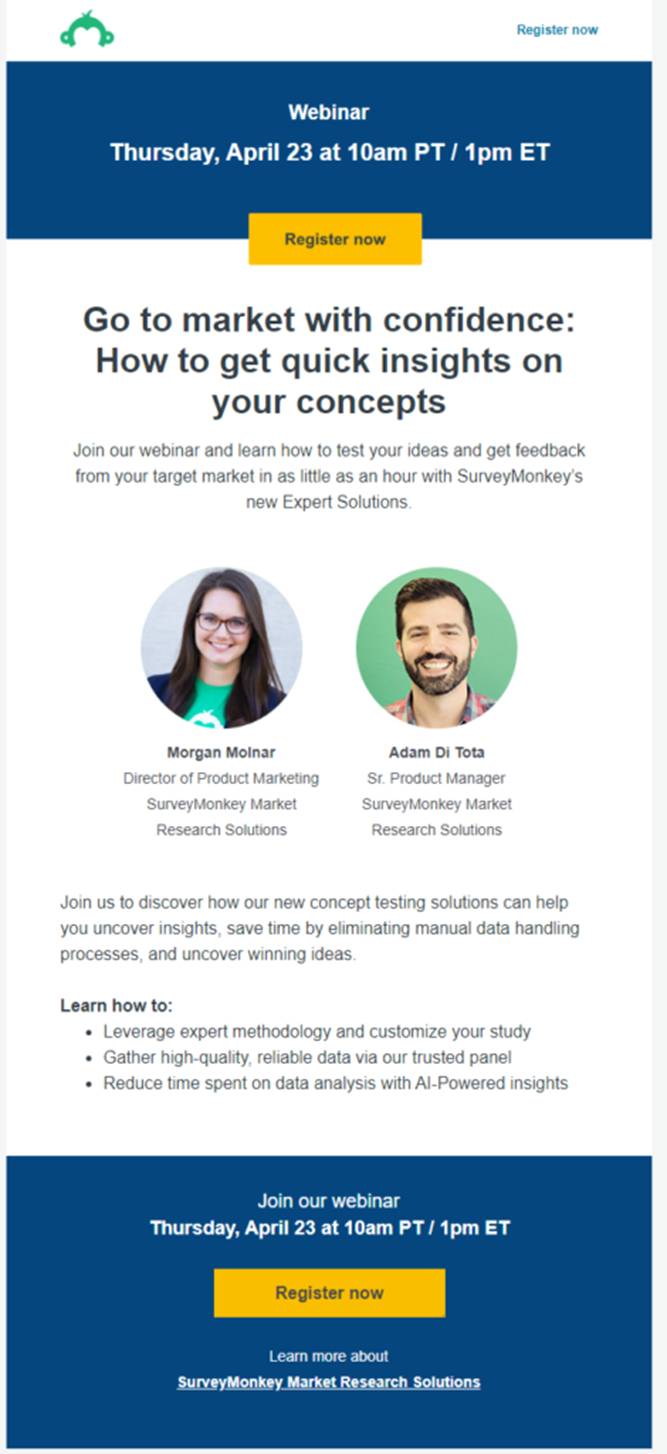 Image Courtesy: envoke.com
In this email, we can see a webinar email where experts such as the Director of Product marketing and senior product manager join the session to have a helpful conversation with the attendees.
And all these attendees would be a chosen few!!!
Marketers outlined topics to be covered, such as "leverage expert methodology and customize your study," "gather high-quality, reliable data via our trusted panel," and "reduce time spent on data analysis with AI-powered insights."
This would keep recipients engaged and take the desired action as expected by you.
Marketers with correct data analysis could send these emails to recipients.
Conclusion:
Email marketing boosted by data is a game-changer for organizations, and it significantly reduces the challenges businesses face to improvise the process. They could leverage the data for their benefit and win the marketing race. This blog explores optimized ways marketers could use their email campaigns facilitated by data.