List of Banking Software Companies We Track
Global Banking Software Market Share (%)
| | |
| --- | --- |
| Company Name | Market Share |
| Misys | 27% |
| Temenos | 17% |
| I-flex | 10% |
| Xero | 8.86% |
| Fiserv | 7% |
| London Bridge | 6% |
| Alnova | 5% |
| Silverlake | 5% |
| Unisys | 4% |
| Fincentric | 3% |
| Sanchez | 3% |
| Infosys | 3% |
| BML Istisharat | 3% |
| FNS | 2% |
| System Access | 2% |
| Fidelity | 2% |
| Other | 1% |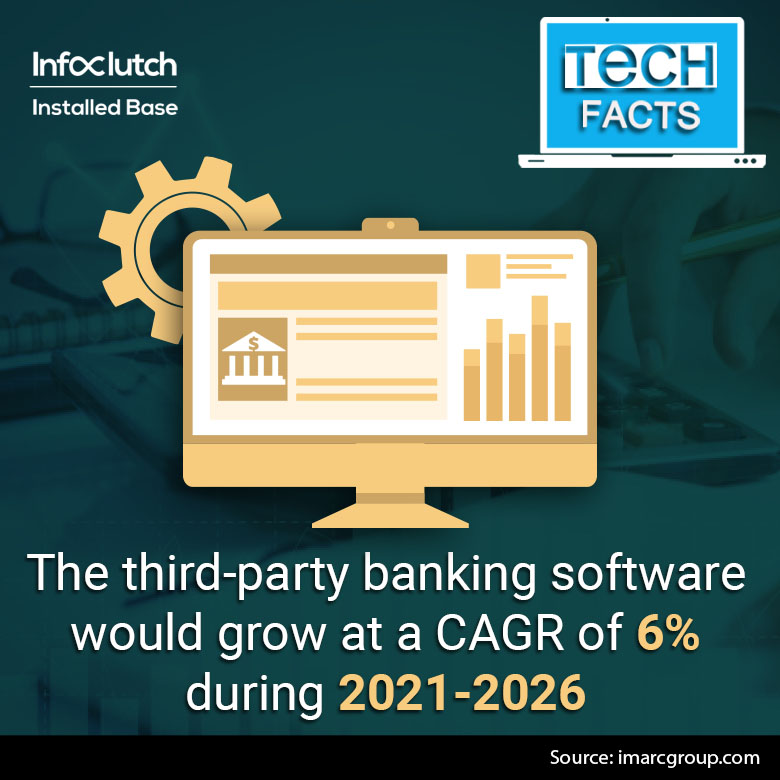 Banking software is now widely used in organizations. The solution helps in administering financial products. It also facilitates making the online banking system a seamless one. In the current pandemic scenario, where most customers can't physically visit banks for crucial activities, they can easily execute transactions with this software.
The common features of this software are it can be customized as per the business needs of different banks such as corporate, retail, etc. It also helps in customer service portal and important interactions with customers. The solution can handle all important financial accounting processes in an organization.
The software also looks into careful storage of data such as customer's data and that too in complete compliance with law. Investment banks also use the banking software as a trading software. This solution is helpful in supplying the accurate infrastructure for the deployment and build process.
The capabilities of the core banking software are customer interaction, financial product builder, source capture, online payment processing, multi-currency fund management, accounting workflow and others. Besides that, a banking software offers compliance rules and others meeting specific business needs of organizations. It includes reducing financial crime and risks, customer wealth management, operational intelligence, enterprise content management, line of credit and others.
The solution helps in many processes such as credit card, insurance and configurable workflow. It even builds right security and ensures data privacy. The greatest advantage of banking software is it helps increase revenue of organizations. With the increasingly complex requirements, many banking software are combining artificial intelligence, and other advanced technologies to streamline their process.
A banking software is well-designed based on integrations, data security and deployment such as cloud-based or on-premise. It is a perfect tool for anti-money laundering, and cybersecurity solutions so that both organizations and customers can enjoy the benefits of accurate financial transactions. The solution further helps deliver right customer experience, beneficial in the long run.
The advantages of banking software are:
Customers can use the solution whenever they need it
It helps in secure transactions
It helps reduce the cost of operation
It supports multiple accounts