HRMS Technologies We Track
Global HR Management Systems(HRMS) Software Market Share (%)
| | |
| --- | --- |
| Company Name | Market Share |
| SAP | 11% |
| Workday | 9% |
| Ultimate Software | 7% |
| Oracle | 6% |
| LinkedIn | 6% |
| IBM | 5% |
| ADP | 4% |
| Cornerstone OnDemand | 4% |
| Skillsoft | 3% |
| Benefitfocus | 2% |
| Others | 43% |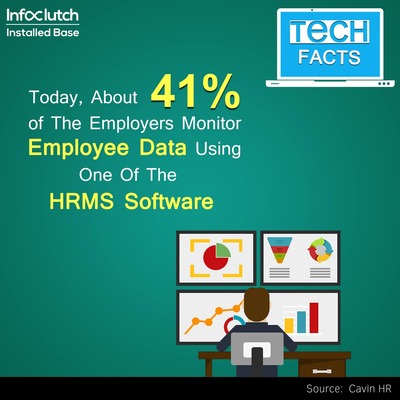 Companies Using HR Management Systems (HRMS) Software (Sample Data)
| Company Name | Website | Address | Address 1 | City | State | Zipcode | Country | Phone Number | Employee Size | Revenue Size (USD) | SIC Code | SIC Industry |
| --- | --- | --- | --- | --- | --- | --- | --- | --- | --- | --- | --- | --- |
| Dollar Thrifty Automotive | dtag.com | *** East **** | | Tulsa | OK | 74135 | United States | (***) 6**-7*** | **** | **** B | 736 | Personnel Supply Services |
| Beans & Brews Coffee House | beansandbrews.com | **** Sandy ***** | Suite 110 | Salt Lake City | UT | 84070 | United States | (8**) 5*1-**** | **** | *.4* M | 5812 | Eating Places |
| AAK | www.aak.com | 2**1 B**nk**b*k*r P**y | | Louisville | KY | 40299 | United States | (**2) *09-13** | *3*9 | *.2 B | 2047 | Dog And Cat Food |
| A10 Networks | www.a10networks.com | 3 W**t Plu**ria Dr | | San Jose | CA | 95134 | United States | (**8) **5-86** | *35 | *35.4 M | 7371 | Computer Programming Services |
| ABC Financial Services | abcfinancial.com | 8*** Hwy *** | | Sherwood | AR | 72120 | United States | (***) 5*5-5*** | *5* | *** M | 8721 | Accounting, Auditing, and Bookkeeping Services |
HRMS (Human Resource Management Systems) is a form of HR Software that combines and helps the process run systems most efficiently while connecting human resource management, business process, and data. It is mostly used by companies to merge necessary HR functions, such as storing employee data, recruitment processes, managing payrolls, keeping track of attendance records, and benefits administration.
Why businesses need HRMS?
Today, every organization whether big or small are looking for a complete solution that can efficiently manage the day-to-day HR tasks. The dynamic work environment is exciting yet challenging surrounded with advanced technological ecosystems. HR's role of recruiting and maintaining records has expanded to building organizational culture, maximizing return on employee investment, maintaining employee records and many more.
The HR Management system is an essential element that allows a company to keep track of employee information such as employee demographics, performance information, benefits tracking and various other information that the company chooses to store.
Benefits of using Human Resource Management Systems – HRMS:
Automates HR processes such as recruitment, resource onboarding, payroll management, and performance management.
Strengthens data centralization and security.
It is time-saving & cost effective.
Enhances decision-making process.
HRMS provides convenient and comfortable work environment.
Eliminates Human error
Protects against fraud.
Performance management.