As per Gartner, 40% of the CRM market share is taken by top five CRM vendors namely Salesforce (19.5%), SAP (8.3%), Oracle (5.5%), Adobe (5.1%) and Microsoft (2.7%) displacing Genesys. While other vendors collectively account for 58.8% of CRM market share. The global CRM software revenue generated was US $48,230.2 billion in 2018.
| | |
| --- | --- |
| Company Name | CRM Market Share |
| Salesforce | 19.5% |
| SAP | 8.3% |
| Oracle | 5.5% |
| Adobe | 5.1% |
| Microsoft | 2.7% |
| Others | 58.8% |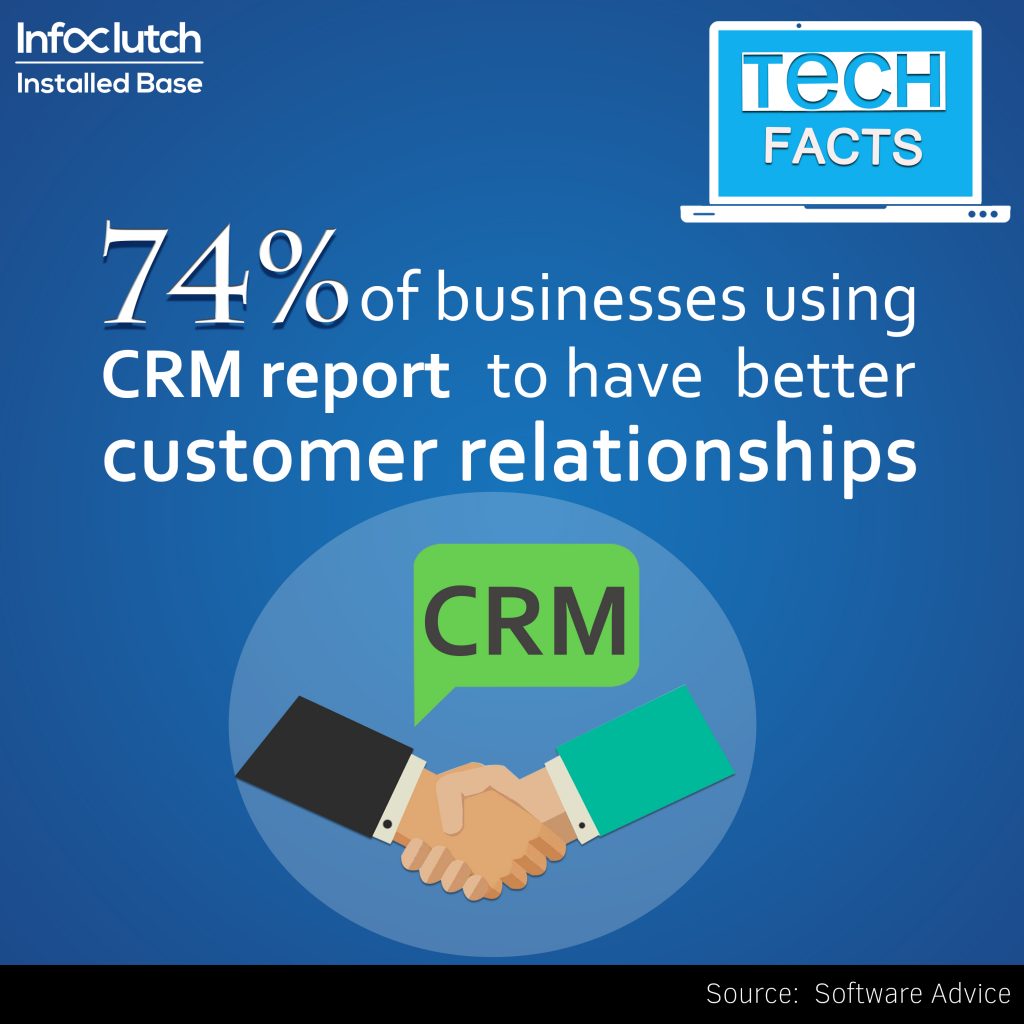 | Company Name | Website | Revenue | Contact Info | Location |
| --- | --- | --- | --- | --- |
| Wells fargo | www.wellsfargo.com | $16 Billion | (866) 249-3302 | United States |
| Activision | www.activisionblizzard.com | $9 Billion | (310) 255-2000 | United States |
| Uber | www.uber.com | $14 Billion | (415) 612-8582 | United States |
| Adobe | www.adobe.com | $15 Billion | (408) 536-6000 | United States |
| Coca Cola | www.coca-colacompany.com | $37 Billion | (404) 676-2121 | United States |
Customer Relationship Management (CRM) is an aspect and an approach to managing company's interaction with existing and potential customers throughout the customer lifecycle. Its goal is to improve customer service relationships, promote customer retention & customer satisfaction, increase efficiency, and enhance sales growth. At most basic level, CRM makes it easy to organize, track, and grow sales pipeline while consolidating customer information and documenting everything into a single CRM database. Get access to InfoCluch's Installed base which offers instant data of CRM companies list that use CRM software.
Both B2B and B2C companies often use CRM software in their business to track and manage business communication via email, telephone, webmail, chat, social media, digital marketing, and other marketing materials. It as well offers advanced analytics for a salesperson or a staff when dealing with the customer. Some of the tools like Marketing automation, Workflow Automation, Analytics, AI in CRM, Lead management and other tools when integrated makes the CRM Software much more effective.
CRM software is most widely used in the sales department and other departments like marketing and customer service. Some of the major industries that employ CRM are into business services, banking, technology, insurance, finance, and manufacturing. Our CRM companies list is graphically represented with pie charts, line graphs and other graphs that makes it easier for you to understand and visualize data better.
The CRM companies help improve the relationship with customers. Some of the top CRM leaders in the market are SAP sales cloud, Zoho CRM, HubSpot Sales, Sugar Sell, InfusionSoft and other leading organizations. Our CRM companies list got complete details, including the relevant technology stack and other crucial technical information helping in the right business communication. This CRM companies list can help a wide range of industries such as the manufacturing industry, consulting, agriculture, financial industry among others. The solutions are tailor-made to meet the varying needs of customers. It gives the intent data that helps to know when the customer would be ready for acquiring the CRM solution. There are some limitations for the CRM companies such as the cost, business culture and others.
Benefits and Advantages of using CRM:
Improved organization and capture of information
Higher efficiency for multiple teams
Advance Analytical Data and Reporting
An increase in customer revenues
Maximizes upselling and cross-selling
Better internal level communication inside the organization
Cost Savings to a larger extent
CRM Lists and Their Importance Today
In today's ever-increasingly competitive market, a company must communicate the correct information with the right people at the right time. Otherwise, the company may miss out on prospects to sell products or services.
A Customer Relationship Management software by reputed CRM companies is the sole option that can assist businesses in successfully communicating with prospective consumers
The primary purpose of any CRM is to enable a business to understand its customers' needs and behaviours in order to deliver quality service.
Developing a good relationship between a business and its customers promotes the retention of existing customers and capturing new ones.CRM is capable of analyzing data and generating reports as needed, and therefore, they serve as one of the most vital technical instruments for businesses today.
The CRM software market share is significant nowadays, given its different varieties. There are namely three types of CRM that serve diverse purposes.
Sales automation, marketing automation, and service automation are all part of the operational CRM process. The primary goal of this form of CRM is to create leads, turn them into contacts, collect all necessary information, and offer support throughout the client's journey with an organization.
Management, sales, marketing, and support personnel may use analytical CRM to decide the best strategy to serve customers. The primary function of this CRM solution is data analysis. It evaluates consumer data from multiple points of contact to better understand an organization's present condition.
Aids senior management in making better decisions,
Helps marketing executives in understanding campaign efficacy,
Assists sales executives in increasing sales, and
Guides support employees in improving service quality and building strong customer relationships.
This is also referred to as a Strategic CRM since it communicates customer information across company divisions such as sales, marketing, and technical support. The support feedback generated can be utilized strategically by the marketing team to interact with targeted consumers about specific items.
Without collaborative CRM, this would be unlikely to occur as data is rarely shared, resulting in losses and damaged customer relationships. The overarching goal is to improve customer experience, increase loyalty, and sales.
A CRM system is comprised of a historical perspective and evaluation of all clients that have been recruited or will be recruited in the future. It helps eliminate the search for consumers, correlate and successfully anticipate customer requirements, and increase business.
CRM incorporates all of a customer's information, making it incredibly easy to follow a customer's progress and determining which customers are lucrative and which are not.
Customers in a CRM list are classified into groups based on the type of business they conduct or their physical address. They are allocated to separate customer service managers, often called account managers. This assists in focusing on each consumer individually.
CRMs are available in a variety of formats, each with its own set of features and uses. Before you deploy your CRM, decide on your future plan and select the one that is most suited to your company's demands.
Consult a CRM expert to understand the different CRM companies and their offerings. Once you have narrowed them down, they can aid a company by providing analytical assistance that can result in excellent sales outcomes.
Now all you need to do is get in touch with the appropriate CRM companies list, and you will have all the tools to craft the perfect strategies for customer retention and support!
Companies that use CRM Systems (Sample Data)
| CRM Companies | CRM Companies Website | Address | Address 1 | City | State | Zipcode | Country | CRM Companies Phone Number | CRM Companies Employee Size | Revenue Size (USD) | SIC Code | CRM Companies SIC Industry |
| --- | --- | --- | --- | --- | --- | --- | --- | --- | --- | --- | --- | --- |
| 4Com | www.4com.com | ***0 S***h Highway *** | Mi***ap***s | Minnesota | MN | 55416 | United States | (***) 5*1-5*** | ** | *.2 M | 4841 | Cable and Television Services |
| ABD Insurance & Financial Services | www.theabdteam.com | 3 W*t*r* P*rk Driv* | Suite100 | San Mateo | CA | 94403 | United States | (65*) 4**-*565 | *10 | *7.5 M | 6411 | Insurance Agents, Brokers and Service |
| Ben & Jerry's | www.benjerry.com | ** Com***ity D***e | Suite * | South Burlington | VT | 5403 | United States | (8**) 8*6-15** | **0 | **0 M | 5812 | Restaurants |
| EcoSMART Technologies | www.ecosmart.com | ***5 W Mi***on Blvd | | Pomona | CA | 91766 | United States | (**4) 7*6-1**0 | ** | *.4 M | 2879 | Pesticides and Agricultural Chemicals |
| HPI Direct | www.hpidirect.net | **5 Go***rd Court | | Alpharetta | GA | 30005 | United States | (***) 7*9-9*** | **5 | **.5 M | 2395 | Tucking for the Trade |