Yes, we know, the pandemic is far from over. The surge in Delta variant cases, might again test the limits of the healthcare system across the world. But it doesn't imply that people need to refrain from living the life they want to.
With necessary precautions and social distancing, all crucial activities and events could still be enjoyed and organized at a good scale.
According to a report, the travel industry is expected to see a 40% increase compared to last year's Independence Day. And more than 47 million Americans would be taking skies and roadways to celebrate the same. This figure is seen as the second highest: the first highest was in 2019.
What does it mean?
It shows people don't want to sit and see days passing by; they want to be responsible citizens and simultaneously participate in Independence Day celebrations.
As a marketer, you should leverage your marketing approach to outreach these customers and improve business results.
You can execute it with email templates that catch your customers' attention and get you on right track. Some of the best Independence Day email templates are:
Fireworks And Celebration:
Most celebrations are incomplete without fireworks. So, is the case with Independence Day celebration. Find the below email template: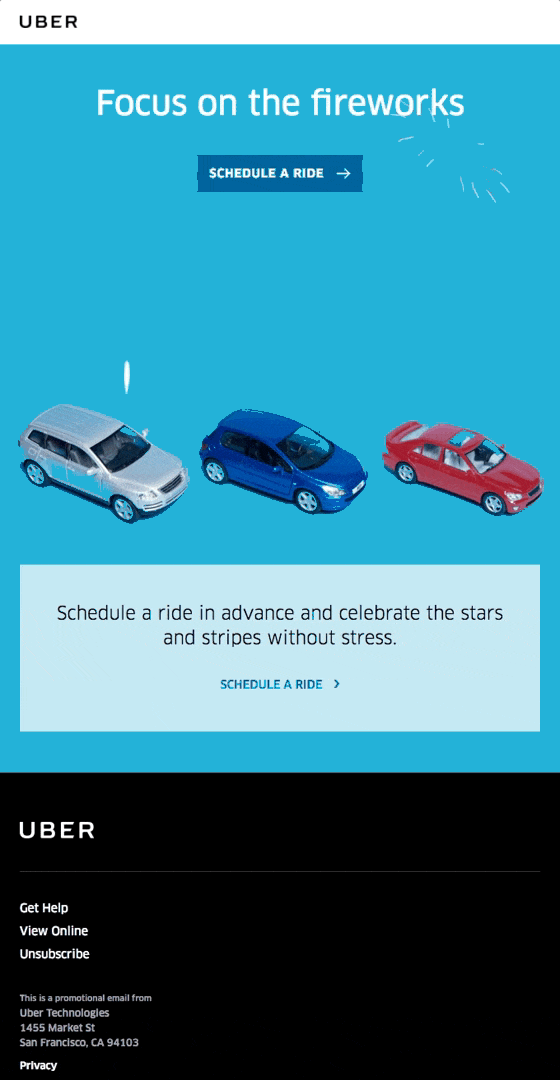 Image Courtesy: InboxArmy
In this example, you see how "Uber" has added a fireworks theme in its email for sending to customers. People should remember this holiday as one of the greatest days in American history and enjoy it to the fullest. Here also the marketer highlighted the sentence," focus on the fireworks."
Then in last, he mentioned, "schedule a ride." It motivates many customers to take action that the brand desire for.
Sale Email Template:
The sale offer is a common marketing tactic that marketers use to get in touch with their customers. And it works almost all the time. People like offers where they see their benefit.
When organizations face any business conundrum and decrease in sales, the first thing that comes to mind is to offer "off," "discounts," and others to increase sales.
This Independence Day, you can also use this tactic to outreach a good number of prospects.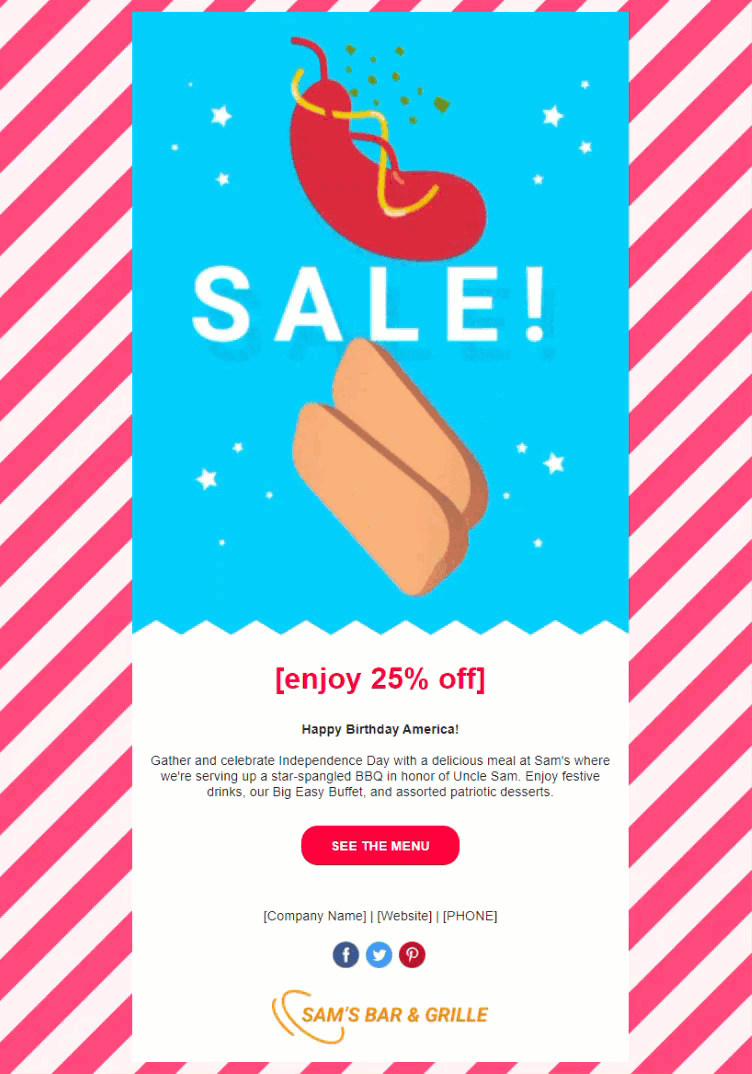 Image Courtesy: Constant Contact
Here you can see, the brand clearly mentioned in its message, "Enjoy 25% off. Happy Birthday America."
Quite an impressive message…
And who won't like to have a delicious meal and that too hot BBQ with that offer?
Although they might offer good products and services, marketers should know that using chosen words can win them half the marketing battle.
Jewels And Independence Day:
Independence Day is a crucial day for our country. So, people should enjoy and spend on things that make them happy.
What's the use of that freedom when you can't enjoy it?
The brand, "Fragrant Jewels," with its email marketing campaign buoys up the theme with a colorful email template:
Image Courtesy: Uplers Email
Here, you can see how the brand holds attention of its customers with message, "peel now." The message is supported by another one, "Reveal your magical surprise."
Customers just love surprises and with the aforementioned messages the brand wants to lead customers to another major offer which they would instantly love.
This organization which is into precious metal, jewelry knows what to be included in the vernacular part that never lets customers ignore their emails.
Email Imparting Knowledge:
While fun and creativity are good, you can also add a quiz session in these templates.
For example, on July 2nd, 1776, delegates from ——— colonies adopted declaration of Independence.
"X" is a Federal holiday in USA since 1941.
What is X? Find one of the examples below: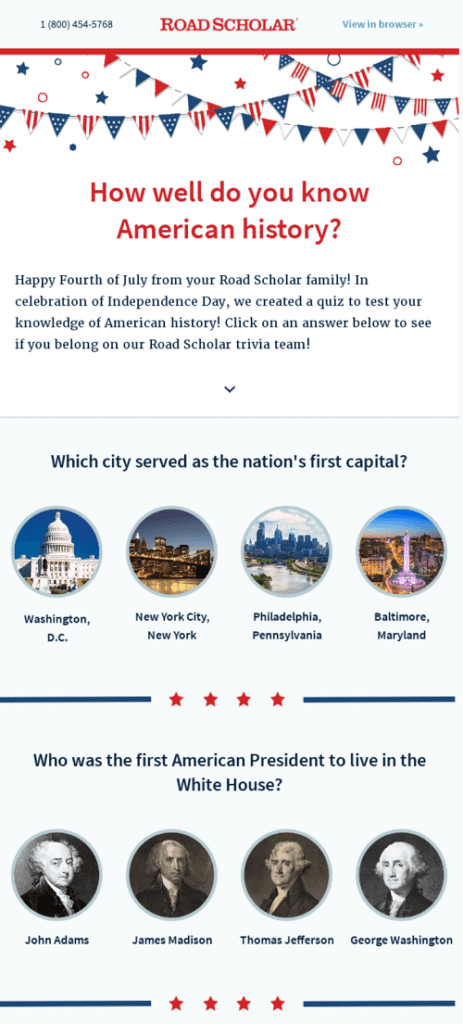 Image Courtesy: SendInBlue
These emails could arouse interest of readers to know more about American history. Besides that, as a marketer you can subtly promote your service.
An Evergreen Email Template: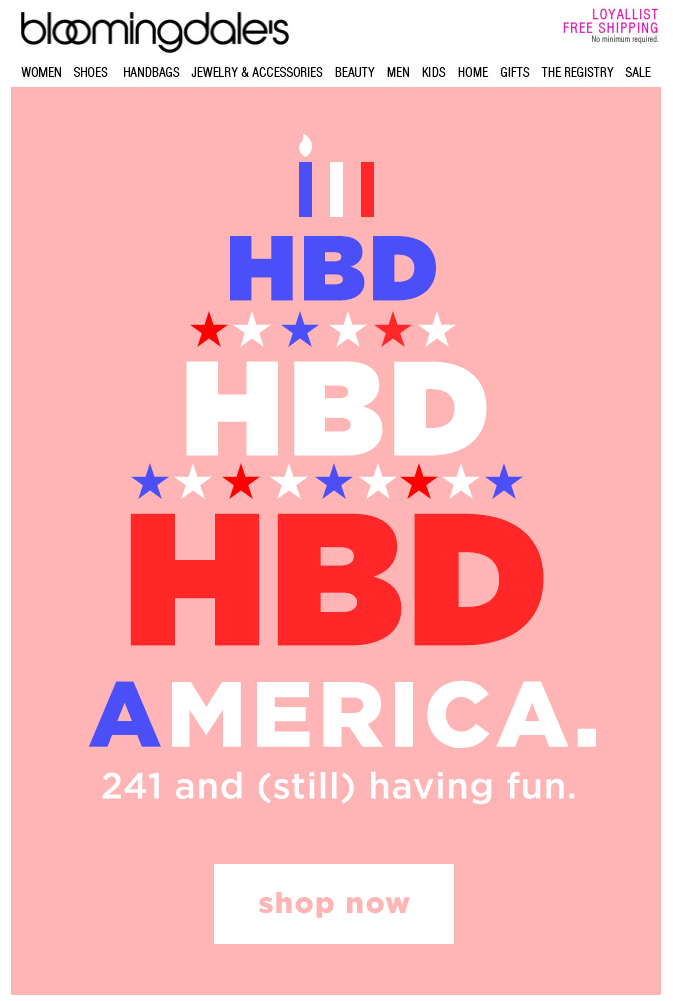 These email templates would never get old as recipients would instantly connect with the message. Independence Day means it's the birth of a new country, so wishing "Happy Birthday" just makes sense in these emails.
241 and (still) having fun!!!
Can you understand the essence of this message in this template?
It makes you aware that every day is a new day, so you should never stagnant yourself. Keep enjoying life. In the end, you can even see CTA, "Shop now."
These emails show how one can create smart, creative, fun and relevant emails concurrently. The more you start implementing these tricks in your campaign, you understand what more improvised tactics you can develop to align with your process.
"Made In USA" Message In Email Template:
Made in USA message with Independence Day email template is a match made in heaven. It evokes patriotic feelings among recipients.
Have you ever tested this?
If not, it's worth a try.
As per a report, almost 80% of Americans prefer buying an American product, while 60% of them stated they are even willing to pay 10% extra for it.
This shows the loyalty of American consumers. We all know there are around 30.7 million small businesses in USA. And during these tough times, we should support them to sustain in the market.
A made in America product will certainly gain more attention during this Independence Day.
Find the following email template: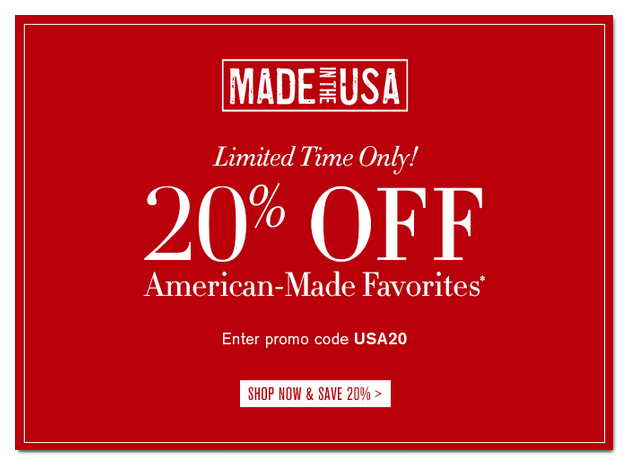 Here you can see, how marketers have promoted the product with offer, "20% off." They also offered a promo code so that customers can just go on to shop.
So, what benefits would a marketer get by sending these emails?
It's obvious they would see:
Increase in sales
Increase in customer engagement
Happy customers
Increased clicks
It thus, becomes necessary to run an Independence Day email campaign and garner positive results from it.
Conclusion:
Most marketers struggle to develop creative Independence Day emails that strike the right chord with the customer. Every email template should be an outstanding one showing relevant messages and bringing American citizens in celebration mode.
While we know the current scenario is a tough one due to pandemic, but as they say, the show must go on. This blog showcases some of the best email templates you could use to deliver the right results in your marketing campaign.