Are you looking for email campaign ideas for international women's day? It's a great occasion to celebrate women's empowerment and promote gender equality. By crafting a fantastic email campaign, you can connect with your female audience and highlight your services.
Brands across the globe come up with creative international women's day email campaigns to improve their visibility. Whether you offer women-centric products or not, it's an ideal time to showcase what your brand stands for. Plus, you can also provide special offers!
If you're searching for some amazing women's day campaign ideas, we've got you covered. In this post, we'll talk about creative email ideas and how to bring them to life. Let's dive right in!
Why Launch A Women's Day Email Campaign?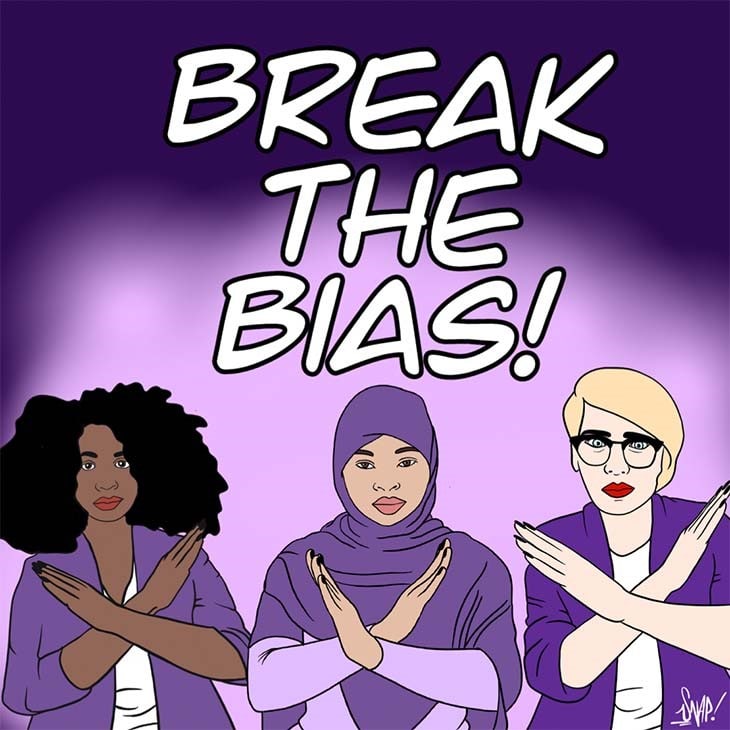 Before you get down to creating the perfect email for international women's day, you need to understand what's in it for you.
Firstly it's a very important day that dates back to the 1900s when people came together and honored women worldwide. It's time to celebrate how incredible women are!
So, if you want to explain your customer base, especially the ladies, there can't be a better time than women's day. You can convey your appreciation and demonstrate how valued they are.
It will be an excellent opportunity to position your products and services in front of your target audience.
Launching creative and heart-touching email campaigns can increase your brand awareness. It will significantly boost your marketing strategy and allow you to connect with women from diverse cultures, religions, backgrounds, and social statuses.
5 Tips To Craft The Perfect International Women's Day Email
It's now time to get down to the main business – creating the perfect email. International Women's Day 2022 aims to promote gender equality for a better tomorrow with the hashtag #BreakTheBias.
So, you can start creating your email campaign around this theme.
Confused about how to start? Check out these tips below to get a head start on your email campaign.
1. Create The Basic Draft
Keeping the primary theme in mind, you can start creating the first draft of your email. You can either develop a single email or send it to your customers and target audience. Or, you can create a series of emails that you can send throughout international Women's week.
• You have to decide the color palette, email content, subject line, and campaign highlights.
• If you're a women-centric brand, then you can offer special discounts on products and services
• Determine your hero image, email copy, or whether you'll include a video in the email
• You also have to think about a catchy CTA to make readers click at any instant
2. Promote Your Products And Services
After deciding the basic design of the emails, you need to figure out which services or products you'll promote. It might be a fantastic time to launch a brand new product or re-launch an existing one.
It's the perfect occasion to go all guns blazing! But you first need your readers to open the mail.
That's why you will require a super attractive subject line that will lead your reader towards your offerings. It has to be concise, short, and eye-catchy. But it needs to give the leader a little hint on what's in store for them.
You can check out these examples –
• Want to be a Superwoman this International Women's Day?
• It's time to look fab with amazing discounts
• Looking to take your style game up a notch?
Besides promoting your products, you can also do something for society. So, you can include some form of charity or donation within your promotions. For instance, you can donate a percentage of your sales towards underprivileged sections of society.
3. Create A Unique Message
Promotions and discounts are amazing, but you need to set yourself apart by penning a message that any reader can relate to. It means that you have to focus on your email copy that has to be engaging and relevant.
You can make the reader or customer feel special by using a very casual tone that shows how important the customer is. It can be a simple message along the lines of "this Women's Day, celebrate being you!" and then you can talk about your products.
As the occasion is different from any other festival like Christmas, the message may not be overly promotional. You can include some tips to spend this Women's Day differently or how your brand supports the occasion.
4. Offer Personalized Recommendations
Personalized recommendations help you separate your brand and tell them that you care for them. International Women's Day is an ideal occasion to send personalized messages highlighting your services.
Coupled with a cute message, it will make the email look fantastic!
So, you need to dig into your email analytics information to find out your customers' preferences. You can focus on your loyal customers and send them emails promoting products they might like.
Personalization will be the perfect tool to address your customers' needs and provide answers to their questions. In addition, you can receive their other choices when they interact with your email.
For this, you can include forms or boxes where they can enter information.
5. Develop Your Social Media Presence
A solid email for Women's Day can help you get more followers on social media. How? You just have to include your social media handles or links within the emails which readers can click.
• You can set up a competition where readers who interact the most on your social media pages will receive a special discount or prize.
• For this, you can share a hashtag and ask readers to post about the special occasion on Facebook, Twitter, or Instagram.
So, with a comprehensive email, you gain traffic, subscribers, and social media followers. It increases your social media profile and spreads awareness about your brand.
Top Brand Examples Of International Women's Day Email Campaigns
By now, you must have wrapped your head around the basics of setting up a fantastic email campaign. If you are still lacking inspiration, here are some amazing brand examples of international women's day email campaigns.
Myrah Penaloza
The brand created a minimalistic and simple email campaign to wish their customers a happy international Women's Day with an interesting subject line. The email copy was highly engaging and talked about Pisces New Moon on 13th March 2021.
It was very simple, yet to the point that informed the reader about their good luck and a brief insight into the future. In addition, they added a CTA below that offered a discount and discount code. The brand also shared the social media handles and opt-ins for text messaging. The whole idea was neat and simple, and it was an effective email campaign that attracted readers.
UniWigs


Image Courtesy: email.uplers.com
UniWigs set themselves apart with their international women's day email campaigns last year. The brand was less minimalistic than the previous example but went all-in with its promotions and discounts.
They placed a countdown timer, along with the message of the discount percentage they're offering. It was followed by a message about free surprise gifts, pictures of the top products find associated CTAs.
Then, they placed larger images about their wigs, along with discount codes and offers. The entire message created a sense of urgency in the readers that were catchy but highly interesting.
The content provided the readers easy access to products with the respective discounts. In addition, they provided a referral code that offered the customer 1000 points.
Nike
When it comes to promotions or ads, we can't ignore Nike, a brand well-known for its campaigning. Last year, their email campaign was based on women who dared to dream big. It was focused on Ayesha McGowan's journey of becoming the first African-American cyclist (female).
The email was crafted with a bold message, "Crazy Dreamers," along with a picture of Ayesha cycling. It had a CTA button that allowed the reader to watch videos about her journey.
The message was clear, beautiful, and was highly inspirational to women across the globe. It projected that the brand supported women who break societal boundaries and defy odds. There was a link to get free shipping for NikePlus members right at the top.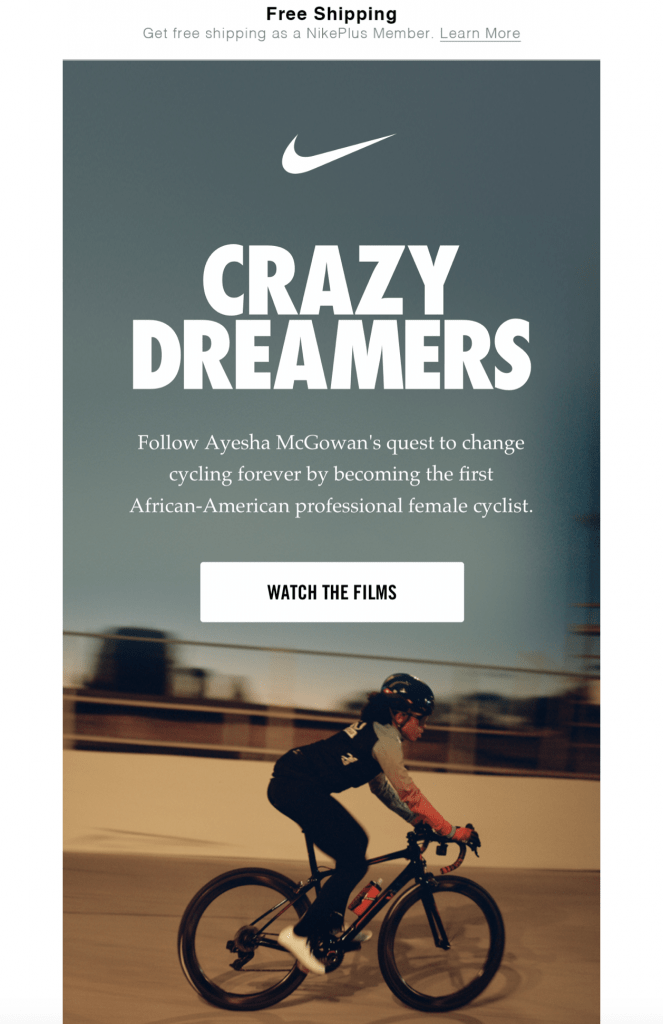 Image Courtesy: maildesigner365.com
The Bottom Line
Celebrating occasions like International Women's Day demonstrates your brand's attitude towards social issues like gender equality and removing gender bias. It helps boost your brand value and enables you to connect more with your customer.
While following various strategies for developing your international women's day email campaigns, keep the reader in mind. You can try telling them how you plan to support the cause or theme of the special day.
Your offers and messages will be a perfect medium to strengthen your relations with your customers. So, try not to sound too pushy or promotional. After all, it's a celebration of human empowerment!