In recent years, social media has increasingly become popular among many users, but it cannot beat the popularity of email. As per a study by McKinsey & Company, it was found that email is more effective than social media in driving more sales.
Customers who bought a product from email spend 138% more than who did not receive email offers. There has been also huge growth in email users. As per a statistics report by Radicati Group:

Email marketing has established itself as one of the persuasive channels to build awareness, increase conversion, and boost acquisition. Find some of the top reasons why marketers should prefer email marketing over social media:
1. Cost:
Email marketing is one of the cheapest media channels for communicating with the prospect. It can help the small and medium-sized enterprises to plan their email marketing strategy with minimal investments. This is crucial for a growing business, as organizations need to keep a check on their investment for the positive growth of the company.
2. Makes You On Top-Of-The-Mind:
Customers tend to forget the brand if there is no proper communication; email marketing can make your brand on top-of-the-mind of the customer with the right communication.
It has been found that most of the recipients check their email daily to see whether they missed out any important email while the social media content often gets overlooked.
3. Longer Lifespan:
Emails have a longer lifespan than social media posts.Yes, you can connect with the audience quickly with a tweet post, but the lifespan of the tweet post is only 18 minutes.
You will never want your marketing content to get lost like the tweet post. Email content is the right choice, which not only ensures that you connect with the customer at the right time but maintain a stronghold on the customer's mind.
4. Building Relationship & Increasing Credibility:
Emails help in building a relationship with the customer and increasing the credibility of your service. It is more direct in making a personalized connection than social media marketing.
Of late, marketers have been sending personalized emails to their customers to maintain a good customer relationship. This has been generating positive results as customers feel good getting special attention than the generalized promotion of a product on social media sites. They even get a better understanding of the brand's services and product, increasing the conversion rate.
5. Ability To Tie All Marketing Techniques Together:
Email marketing can tie different marketing techniques together. You can promote the blog to your subscribers through email, and if you are planning to launch a social media contest, then you can invite subscribers via an email invitation
6. Driving More Visitors To Website:
If you want more visitors to your website, then email marketing can direct you on the right path with effective communication. Social media also gives good exposure, but email marketing has a more effective way of holding the attention of the customer with the right promotional content.
7. Increasing Awareness:
Email marketing helps in giving a detailed description of your product or service than social media. As most of the social media content is short, a customer cannot have a clear idea about your product or service. One can only get the detailed description in an email. This makes email marketing a popular choice.
8. Personalization:
Email can be personalized while it is difficult to personalize the social media content. A personalized email helps in reaching the accurate customer and begin the right conversion. As a marketer, you need more sales and revenue, which is effectively facilitated by a personalized email.
9. A High Number Of Users:
Email users are more in number as compared to social media users. So, as a marketer, it is a wise decision to give more priority to email marketing than social media marketing.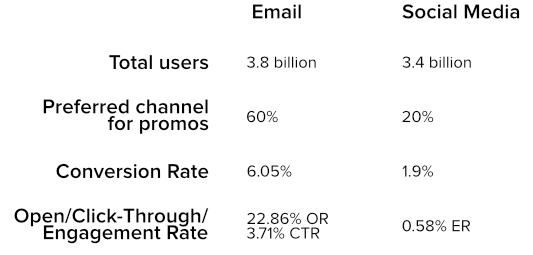 Image via: Optinmonster
One can get more conversion rates if more priority is given to email marketing than social media content.
Conclusion:
Yes, social media usage has increased, but you should not ignore the importance of email marketing. Email marketing is here to stay, so make the right usage of this channel to outreach a wide audience in a short period.
As a marketer, you have to promote your brand to a broad audience and increase conversions, which automatically ensures that you give priority to email marketing than social media content. This is also true in digital marketing strategy where blogs, social media posts, and other forms of content can be shared to users via email.