Have you ever wondered which ones of social media and email marketing is better for your business? Are you struggling to / Are you in a combat to assess what is best for your brand?
Comparing them to see what performs better can be hard to analyze. Both serve a very different purpose. As a marketer, the most important aspect is to identify your purpose and understand what works better for you at any given point of time.
Nonetheless, in the battle of Social Media and Email Marketing, pairing the two together is what brings the best result.
In this post, we will show you how you can better combine Social Media and Email Marketing. Here are 7 effective tactics to get more out of each channel.
1. Add And Include Social Icons In Your Emails:
Whether you are a startup or a well-established firm, it's necessary for you to have your engagements going. Email is one of the chief communication choices for lead acquisition, however, incorporating social media channels into the existing email campaigns is indeed advantageous. Doing so will extend the reach of email campaigns but, simultaneously help the growth of your social media channels.
As per the study by GetResponse, emails with social share buttons have 155% higher click-through rate than those without. The "Share" buttons can make all the difference. Simply embedding social media buttons into the email template can boost the traffic that you need.
2. Turn Your Social Fans Into Email Subscribers And Vice-Versa:
As mentioned earlier, the best way to run your marketing campaign is by integrating your social media and email together. When you already have a set of fan followers on your social media site, it becomes much easier to draw your engagement towards email subscription. This process can better your chance to gain as many social subscribers as possible, on the other hand, it can as well improve the growth of your email subscribers list.
3. Add Social Elements To Your Email Unsubscribe Page:
If someone wants to leave, it doesn't always mean that they want to stop hearing from you. Adding social icons to follow your company page can be one of the simple strategies, so that your readers can choose their preferred social channel that they are comfortable with.
Simply customizing the unsubscribe page and embedding them with social icons can be a great way to try and save the contact. While you have this in your email campaign, make sure that you introduce humor. Do not force your users to stay on when they want to do so. No matter which platform you are using, make sure that you honor your requests to unsubscribe.
4. Promote Email Opt-Ins Using Your Social Media:
When you have a strong presence in one of the social media networks, you could use that to ask your followers to subscribe to your email correspondence. Social media channels like Pinterest, Facebook, Twitter are considered to be the best source of traffic for your business. In fact, according to the sources, this can bring in 3x more traffic.
5. Host Contests And Promote Incentives In Your Email Campaigns And On Social Media:
One of the toughest parts of any form of business is the continuous quest to produce something new which can attract your existing as well as new customers. Hosting a contest or promoting incentives on your social media page or in your email campaign can be compelling and can go a long way in helping you overrule your marketing goals. This will encourage customers to sign up and can be a great way to drum up enthusiasm for your brand while creating a fun experience in the process. Also, the process here will help you cross promote your social customers via email and your email subscribers can become followers of your social media pages.
You don't have to include huge budgets or offer an iPhone to attract contestants.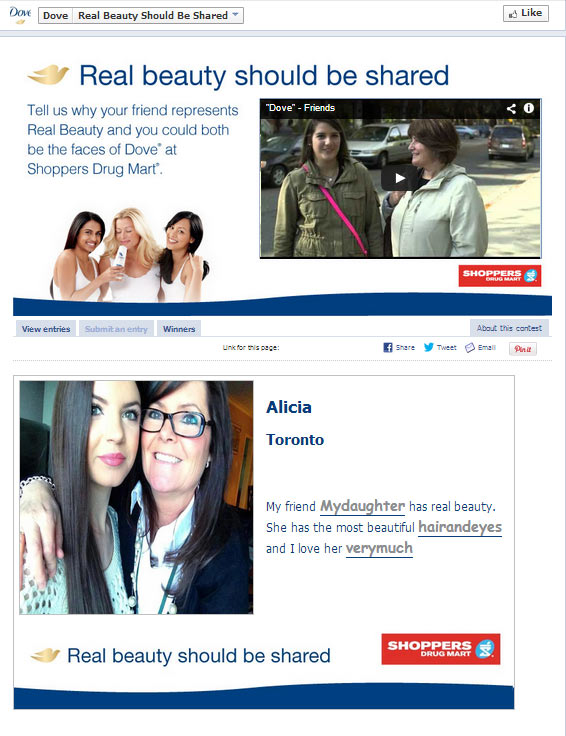 Dove, for example, hit Facebook only to rock the contest. Dove launched "Real Beauty Should Be shared" and ran a fill in the blank approach. Followers were asked to post a photo of a friend and to share reasons why that person embodies Real Beauty.
Winners here got an opportunity to model in the Real Dove Ad Campaign.
The contest was not just an attention grabber but it reached millions of consumers right away.
6. Include Social Proof In Your Email Campaigns:
Social proof acts as a key in email marketing. You are all set to launch your new product or service in the market. You know it's a great product which is going to rock in the market. You are excited and have started working on your email campaigning. But despite your efforts, you may still not see results flowing as people are not clicking on your emails or newsletters. So all your efforts may go in vain.
Instead, imagine including real-time experiences of your customers who are currently using your product. Sharing customer testimonials, their reviews, awards that your product or service has received, press mentions, etc. These practices can surely uplift your sales and increase credibility.
7. Promote Email Newsletter On Your Social Media Channels:
This is one of the great ways to promote your brand on both the channels. Allow your followers on social media to know about your valuable content and discounts that they can avail for signing up for your email newsletter. Include links in your emails to share your content and newsletters.
Incorporate lead generation cards or sign up forms and make it easy for your subscribers, so that they don't leave social media site.
Takeaway: In an era of digital world which is dominated by social media platforms like Twitter, Instagram, and Facebook, email may seem to be an old guy, yet thousands of marketers continue to consider it to be effective. However, when you use both the channels together, the effectiveness is greater regarding your sales and Return on Investments (ROI).
You certainly don't need huge investments for all this, all that you need to do is stick to the ground rules and continue experimenting with your social and email campaigns.