The world has become smaller, with everyone connecting on social media platforms. Many businesses have been quicker to understand the trend that social media will become an integral part of marketing in the future. As a result, they have developed various strategies to reap maximum benefits from this trend.
For long, email marketing helped marketers to generate the required revenue and sales, but with social media marketing becoming equally important, it is time to integrate both for better business results. Below you can find how the traditional email marketing is enhancing the novel social media marketing.
Find out some of the top ways:
User-Generated Content:
User-generated content is very popular nowadays as the audience likes to see the authentic content, they want to see the real results from the real users. Almost 60% of the consumers stated that products or services that they purchased are influenced by family members as well as friends.
Most of the social media platforms also thrive on the user-generated content that makes the UGC marketing more shareable and useful forms of content marketing. While sending emails to the recipients, you can insert the social buttons where the reader is directed to the social media platform in which your user has shared attractive, and visual UGC content.
The social proof is the greatest facilitator to attract consumers to your brand. So, if you want to improve the credibility of your brand, share the testimonials of your satisfied customers on social media.
Find the below example of user-generated content on social media: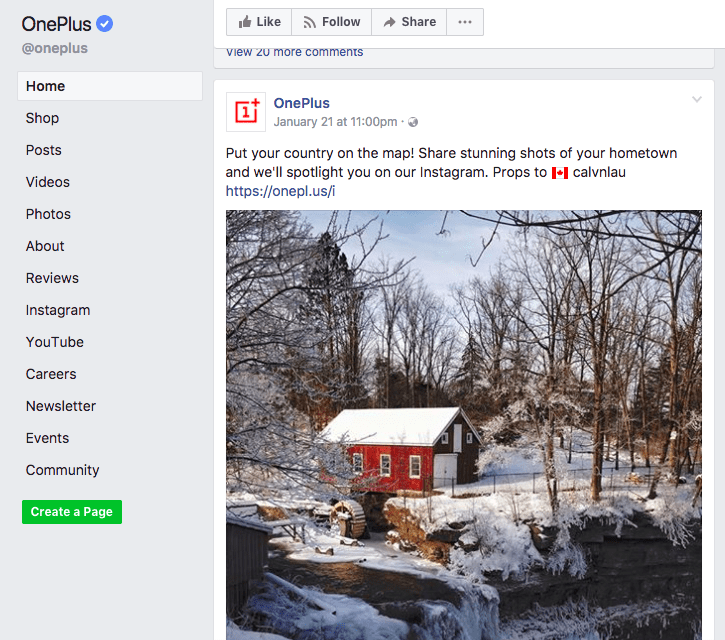 Image Courtesy: ReviewTrackers
Discussing Newsletter On Snapchat:
The users on Snapchat are one of the highest consumers of video content. You can discuss about your newsletter explicitly on this platform. You can distribute the engaging and relevant content about your newsletter on Snapchat so that users become aware of the information which you share in the newsletter.
As you would have already sent this newsletter to many subscribers via email and the majority of these subscribers would be following on these social platforms you should make it interesting and fun so that they would not be bored.
The Perfect Combination Of Email And Social Media:
The integration of email and social media works in a huge way. It helps in outreaching your targeted customers with a perfect campaign. This tactic helps to enhance the marketing metrics. When the tactics which you apply in social media is applied in email marketing, then it helps to increase the open rate and click-through rate. It is the starting phase to increase the conversion rate and sales.
You would also like to have more subscribers on your mailing list. So, when people talk about your post or email on social media, it will help in brand exposure. There will be more number of people who will get the chance to see your innovative practice of sending emails.
There are many prospects, which you think can be converted as customer, but specific customers such as the ones who open your emails should be given high priority as they have the higher chances of conversion. You can then send them specially designed emails to convert them as your customers.
The social media acts as a perfect platform to reach out to new prospects and subscribers. As there are various social media platforms such as Facebook, Instagram, Twitter, you can check the platform which is more popular with your audience and, as per that, design the content. The audience can keep in touch with your latest offers, discounts, and also launch of new product.
Find the below example of an integration of email and social media: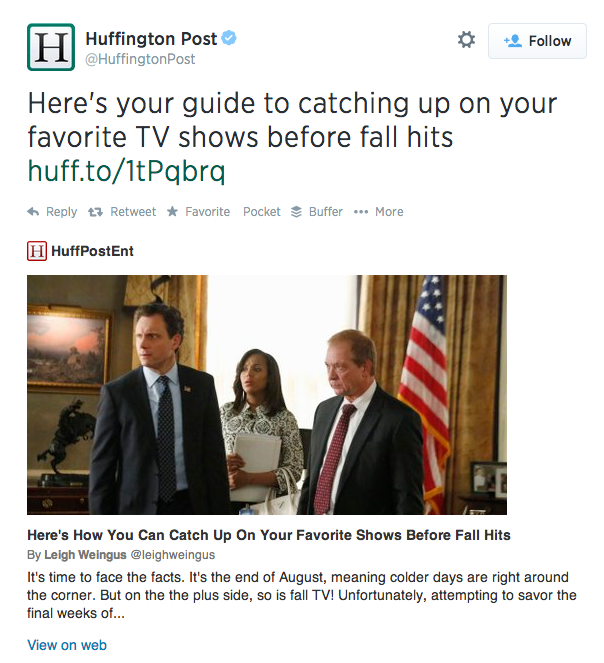 Image Courtesy: NeilPatel
Invite Your Email Subscribers To Follow On Social Media Channels:
This is one of the best tactics as a marketer. Most of the audience are avid social media users and during this lockdown period for COVID-19, they are using social media regularly. So, invite these subscribers to like and share your posts along with following your page on social media.
Offering Incentives:
Provide your subscribers with attractive incentives; the success of your campaign depends on how connected are your audience. Most of the subscribers will only show the interest when they see that it is benefiting them. Give them the incentives in their purchase or if they refer your product to their friends, relatives by indirectly promoting on social media channels.
Sending Email Newsletter On Social Media:
You would have sent many newsletters to your subscribers, this can also be used on social media to promote your brand. For example, choose the RSS feed from your company's Facebook account then create the newsletter from the Facebook feed option available there. It will help in getting more popularity and likes, shares on your page.
CTA:
Call to Action is always crucial. As a marketer, you should always have a focused approach and check that your marketing efforts do not go waste. For this, you should include call to action when any reader is directed to the social media from the email. You can ask the social media followers in taking the relevant CTA after liking your social media posts or other forms of content. This increases the number of conversions
Executing Specialized Campaigns:
Running specialized campaigns is necessary so that you come in touch with the exact prospects. Only adding social media buttons on all the emails will not help in your social media marketing mission.
As the audience on all the social media platform behaves differently, you can run different campaigns on all the platforms. For example, mention the benefits to your email subscribers such as what they will get in return if they start following you on the social media. When they see the valid benefits they will get, they are going to follow your suggestion.
Executing Enhanced Social Contests:
Social contests helps in better connection with the prospects. You can plan to send social contests while sending emails to the subscribers. Make the contest interesting by providing them a platform to win any gift that is valuable to them.
As social media platforms are looked as the platforms where users can interact and post interesting and fun content, you should also make your social contest a highly engaging one.
The process can prove to be highly beneficial as it will motivate them for subscription on all the channels.
Integrating Attractive Social Profiles In Email:
Check the below image: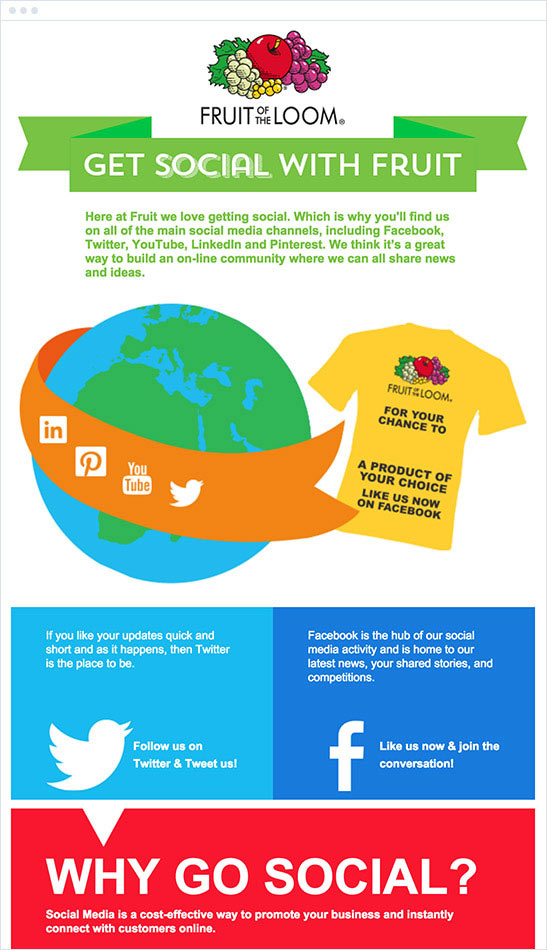 Image Courtesy: CampaignMonitor
As you can see, an attractive social profile significantly helps in pulling the attention of the recipient. When you insert the social profile in email not only it increases the engagement level but also informs your subscribers that you have a good social following as a brand. They start believing the credibility of your brand and your sophisticated style of social media marketing.
This in turn, will motivate them to follow you on different social media channels.
Attracting Subscribers From The Thank You Page:
The Thank you page which the subscribers come up to after successfully completing the sign-up process, can be used as a value- added resource to promote social media marketing.
As a marketer, you can add the social media buttons here so that it will be easy for the subscribers to send a message via email. This linking of social media marketing and email can give beneficial results as every day, you will be getting many subscribers.
Indirect Email Marketing:
You know how the email marketing works. Now, you can try the indirect email marketing.
So, what is indirect email marketing?
This is a form of marketing where through social media you will be receiving emails. For example, when you subscribe to a LinkedIn group, you will be automatically receiving emails, regarding the activity inside the group.
Since LinkedIn is a social networking site and most of them are high-profile business members the emails sent would be useful emails and not the spam ones that you will like to delete immediately.
Automation Of The Emails For Accelerating More Social Shares:
You would like a high number of C-level executives and other influential people to share your blogs and other forms of content. This is the social proof among the audience that you have a credible and trustworthy brand.
You have to use email for the social sharing of the blogs which you think can perform reasonably better. Then you can approach the influential people to showcase that the content has been seen and liked by a high number of readers.
Having A Separate Social Group For Your Email Subscribers:
A separate social group for the email subscribers can help to leverage your social media marketing strategy.
The group can be created for any learning on a specific subject. You can then motivate them to share the learning content by liking your social media page.
Conclusion:
Social media is popular among the majority of the audience worldwide. So, if you want to increase sales and revenue, you have to leverage the social media marketing in your favor. The email marketing has long been one of the greatest revenue generators for organizations worldwide, you can use the power of email marketing to enhance your social media marketing strategy.