Halloween, also known as All Hallows' Eve, Allhalloween, or All Saints' Eve is a celebration observed in many countries on the eve before the Christmas holidays each year on October 31st. It has evolved from the ancient Celtic festival of Samhain, when people wore costumes to ward off ghosts and would light bonfires. The festival that originated 2000 years ago is now advanced into a day of activities like carving jack-o-lanterns, trick-or-treating, donning costumes, festive gatherings, eating sweet treats and business too.
Halloween today has shifted into a celebration for adults and has been a natural opportunity for businesses to market and sell products or services. Over the past decade, Halloween business has widely grown and is recognized to be the second largest commercial holiday with Christmas being the first.
As per the research by 'The Balance,' the total spending in the US alone is expected to top $9 Billion in 2018.
This may come as a shocking fact to some of us, but this is a known statistical news for brands who have been selling over the past years. Like Christmas or any other holiday season, this spooky season is a special time for marketers to get creative with their campaigns.
While there is a significant focus on costumes, decorations and candy's, it is a huge deal for online e-commerce stores, food, makeup, gadgets and many more.
If you are a marketer who is unsure about how to start when it comes to Halloween advertising, here are some brilliant blood-curdling campaigns that you can learn from. We've gathered 8 of the best Halloween Marketing Ad Campaigns to get inspired from and takeaways that you can apply to your future campaigns.
Enjoy!
1. LG: "So Real It's Scary"
Imaging getting into the elevator and suddenly the lights starting to flicker, and the floor beneath you starts to fall apart. Have a look at this new remarkable viral ad by LG which has taken in millions of views since its launch. This advert promotes IPS monitor as the new reality of television.
In this campaign, LG installed a grid of LG IPS monitor on the floor of an elevator to create an optical illusion which appeared as though the riders would fall to their deaths. LG's voice "So Real It's Scary" basically means to say that they offer color visuals that are identical to that of the real image. The tent polling ad around the Halloween turned out to be effective and was a lot of fun watching the riders react.
2. Burger King: Free Whoppers For Clowns:
The International fast food chain Burger King has always won customers with its creative advertising, and with emotional marketing.
The above video came up with an offer and a message inviting people to "Come as a clown, eat like a king," during the Halloween 2017. The first 500 guests who came dressed like a clown were offered a free WHOPPER sandwich at select 'Burger King' restaurants. This ad combines customer interaction and a clever trolling of its rival McDonalds. Burger kings ability to promote via a creepy clown filled video with hashtag #ScaryClownNight is amazing.
Here the ad portrays a young man riding his bike down the road happens to see creepy clowns cycling, running and following him at every turn. So when he sees lights of Burger Kings, he seems to feel he's had a lucky escape only to find clowns inside the restaurant.
3. GiffGaff's Halloween Salon:
People spend billions of money and hell of it on makeup and buying Halloween costumes, and GiffGaff is well aware of it. Saloons have been getting a tremendous response and seeing a great success over the years. GiffGaff, a famous mobile network company, went on to partner with salons like WAH nails and others to offer a free pop-up hair and makeup on the Halloween night.
Here is a record behind the scenes in the salons at different levels. This video features makeup artists offering scary makeovers for guests who head out on the Halloween night.
4. Mc Donald's Classic Candy Treat:
Halloween is a time to celebrate and eat candies. Mc Donald's brilliant ad with simple lunch bread wrapped like a candy comes up with a great advertising to match the candy season. This classic ad repositioned a classic Mc Donald's menu into yet another classic treat. As we usually think of candies during Halloween, showing off the burger in the form of the candy sets a festive twist.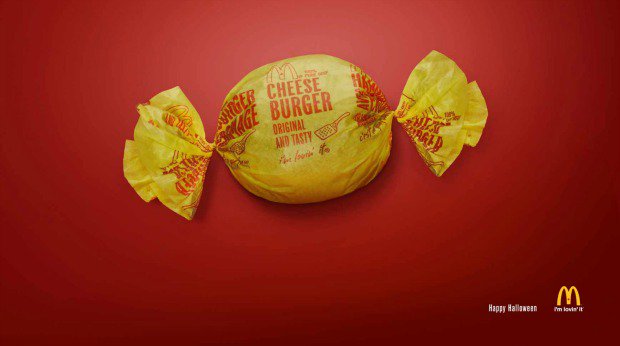 5. Telekinetic Coffee Shop Surprise:
Here is a creative teaser and a remake of the film Carrie which takes place in NYC café. The video has marked nearly 70 million views on YouTube alone and was brilliantly taken across the world.
In this video, the producers and directors rigged sNice Coffee Shop at New York, so that the actors could convince everyone around in the coffee shop that they had abilities to throw a man against a wall using the force of her hands, moving the table and tossing off the bookshelf.
The beginning of the video shows how special effects are constructed and later captures coffee shop customer reactions as their jaws dropped, their wide eyes because of the terror and to the act of telekinesis.
Wrapping Up:
Halloween is a huge boon for businesses all across the world and continues to increase in popularity. Every year, companies are trying to get more outrageous, more creative and even scarier campaigns. Drawing on the modern phenomena of data use and creative thinking has gone into its execution. Study shows that people rely on emotions, rather than information to make purchase/brand decisions. The above listed Halloween ads are more influential on the person's intent to buy than the content of the actual ad.