Approach prospects of SAP services and give yourself a chance of making better sales by using our SAP users list.
Why Buy SAP Users List from InfoClutch?
We'll Get Back To You Shortly!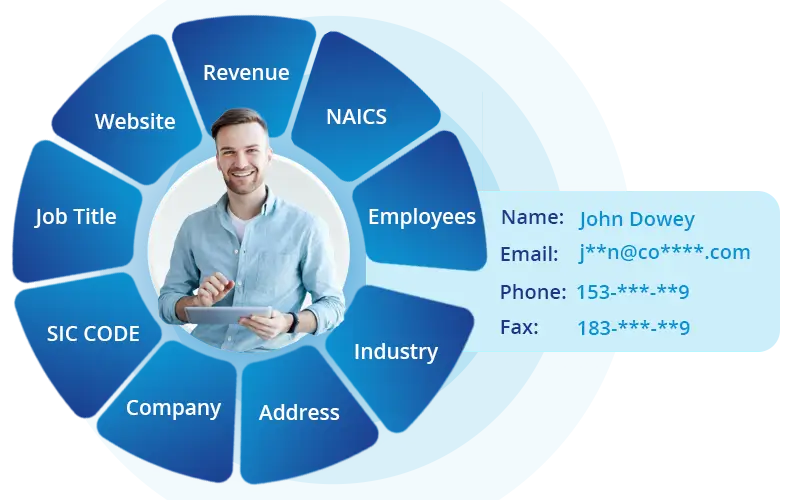 SAP (System Applications Products) is a German-based European multinational software corporation and a market leader in today's business & technology revolution. It is a business software that is designed to integrate all areas of business and provides end to end solutions for manufacturing, logistics, distribution, financials, etc.
Some of the significant products that SAP presents include SAP S/4HANA, SAP CRM, SAP PLM, SAP SCM, SAP SRM, SAP supply chain management and many. If you are planning to connect or collaborate with business users of SAP, our SAP users list will help you meet all your business needs.
If you want to engage companies that use SAP solutions, start with InfoClutch's SAP users list. Our list is highly segmented and optimized to support all multichannel engagements, whether it is email, direct mail, or telemarketing channels. If you face hardship reaching target markets across domestic and international areas, our SAP users email list is a one stop solution to marketers, because, with this list, you can confidently approach companies in US, UK, Canada, Germany, Japan, New Zealand, Africa, and the Middle East. InfoClutch's SAP users mailing list is designed by keeping in my mind the key requirements specified by the marketers.
It allows marketers to improve the customer journey within the sales pipeline. We are the only mailing list provider that comprehensively scans the global markets to produce other lists of SAP solutions. InfoClutch is a provider of the most accurate SAP users mailing list because our expert data scientists set out to scan global markets by sweeping SAP trade shows, SAP conferences, SAP Newsletter Signups, and more to aggregate the data of companies interested in SAP solutions.
We consolidate the data acquired from various sources and produce email lists that are highly optimized and reachable. B2B marketers can leverage upon the list accuracy to prospect audiences who are customers of SAP solutions. We'll go even further and construct your marketing campaign that results in maximum conversion and greater ROI. Choose our SAP users email list and connect with B2B prospects, key decision makers and professionals with purchase power across the globe. Make use of our SAP users list and reach SAP customers, industry and technology experts and significantly influence your business future direction.
ALL SAP PRODUCTS USERS LIST
We Track All SAP Products Users
We'll Get Back to you Shortly!

assets size

company size

geographic locations

Industry

job titles

SIC / NAICS code

technology tracking

zip code
Explore from a broad range of selections using our SAP users email list to find your ideal audience today. With our rich database, you get to reach SAP users located anywhere across the globe, expanding your brand coverage.
SAP USERS LIST – DATA CARD
CATEGORY
PRODUCT
INSTALL COUNT

Reporting Software

SAP Crystal Reports

40,392

Enterprise Resource Planning (ERP)

SAP ERP

20,943

Enterprise Business Solutions (EBS)

SAP Business Objects

18,649

Enterprise Resource Planning (ERP)

SAP R/3

9,148

Enterprise Resource Planning (ERP)

SAP ERP Central Component (ECC)

6,394

HRMS / (HCM)

SAP ERP Human Capital Management (HCM)

4,972

Commerce

SAP Sales

4,109

Supply Chain Management (SCM)

SAP Materials Management

4,015

Business Process Management (BPM)

Ariba

3,876

Governance Risk Compliance (GRC)

SAP Master Data Governance

3,290

Database Management Software

SAP NetWeaver

3,092

Supply Chain Management (SCM)

SAP Supply Chain Management

3,006

Customer Relationship Management (CRM)

SAP CRM

2,962

HR Management Systems (HRMS)/Human Capital Management (HCM)

SuccessFactors

2,854

Enterprise Resource Planning (ERP)

SAP Business One

2,513

Supplier Relationship Management (SRM)

SAP Procurement

2,408

Enterprise Resource Planning (ERP)

SAP Sales Order Management

2,338

Database Management Software

SAP HANA

2,287

Enterprise Resource Planning (ERP)

SAP Advanced Planner and Optimizer (APO)

2,106

Software Configuration Management (SCM)

SAP Solution Manager

1,928

Supply Chain Management (SCM)

SAP Production Planning

1,784

Inventory Management

SAP Warehouse Management

1,661

Quality Management System

SAP Quality Management

1,488

Information Technology Management

SAP Data Services

1,324

Financial Analytical Applications

SAP CO-PA Accelerator

1,173

Supplier Relationship Management (SRM)

SAP Supplier Relationship Management

1,138

Project Management

SAP Project System

1,109
Our dependable data sources allow us to serve you better
What I liked most about InfoClutch is their commitment to deliver the best-in-class services to their clients.
Robert,

InfoClutch delivered fresh data that supported my business objectives and gave the conversions I have never got before.
Nancy,

Authentic and complete information that saved our time and helped us focus on campaign strategy.
Xin Lee,

It was pleasure working with a company who understood our concern and addressed it in a timely manner.
Sara,

Have worked with many email list providers but the experience I had with InfoClutch team was exceptional.
Michael,

I am very satisfied with the quality of the list InfoClutch provided us. It helped us in our multichannel marketing campaigns a lot.
Peter,

Frequently Asked Questions