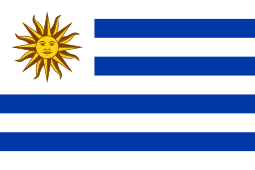 Uruguay Business Email Lists
Uruguay, officially known as the Oriental Republic of Uruguay is a country with verdant interior and beach-lined coast. It is bordered by Argentina to the west, the Atlantic Ocean to the southeast and Brazil to the northeast. It has been overshadowed politically and economically by republics of Brazil and Argentina. Progressive, stable, safe and culturally sophisticated, it offers experience and everyday opportunities. It is also called the Switzerland of South America for its stable democracy and social benefits such as free education, developed financial sector on bank secrecy. If you would like to connect with businesses based in Uruguay, our Uruguay businesses email list will be the right option.
Growing revenue and profits is the core objective of any business. At InfoClutch, we believe that the responsibility of every function is to contribute to such a goal. Hence as a B2B marketing company, we aspire to focus exclusively on delivering the best database so that your brands are better navigated in this competitive space. Make use of our Uruguay businesses email list and be sure to grow your business reputation by connecting with clients via email, telephone, and direct mail marketing campaign. Avail our pre-packaged & customizable database and the right set of target audience across Uruguay.
At InfoClutch, we ensure to keep our database accurate, up to date as we procure it from trusted sources like trade shows, magazine subscriptions, corporate websites, B2B meetups, public records, yellow pages, business cards, trade shows, surveys and feedback forms, and more. Our Uruguay businesses email list is dynamically designed to your marketing campaign a much-needed boost. We aim to remove the marketing barriers between you and your clients by giving you the platform to engage and grow sales relationships without having to worry about the nitty-gritty challenges. So take a smart move and gather our valuable resources which will help your growth plans, plus generate maximum ROI and faster turnaround.
We'll Get Back To You Shortly!
CUSTOMIZE YOUR URUGUAY BUSINESS EMAIL LISTS BY
Our responsive database features variety of profitable data such as job title, SIC code, NAIC code, income, and other details that makes it easier for you to reach Uruguay based businesses.
What I liked most about InfoClutch is their commitment to deliver the best-in-class services to their clients.
Robert,

InfoClutch delivered fresh data that supported my business objectives and gave the conversions I have never got before.
Nancy,

Authentic and complete information that saved our time and helped us focus on campaign strategy.
Xin Lee,

It was pleasure working with a company who understood our concern and addressed it in a timely manner.
Sara,

Have worked with many email list providers but the experience I had with InfoClutch team was exceptional.
Michael,

I am very satisfied with the quality of the list InfoClutch provided us. It helped us in our multichannel marketing campaigns a lot.
Peter,

Let Us Help You With The Right Prospect Data
Reach Us Now: +1 (888) 998 0077