Have you rightly planned your email marketing campaign?
If you are not confident, then we are very sure you would like to know about it!!!!
Recently we conducted an email marketing survey to get a better understanding of the email marketing practices and the results generated from the same.
The facts and figures from this email marketing survey gave accurate insights for better decision making, as it covered the essential points:
What you already know but want to know why and how?
What are the key metrics to come to a conclusion?
What decisions one can make with all the statistics?
With increased competitiveness, it has become a tough job for marketers to find new ways of connecting with the customer. Email marketing, as one of the most trusted marketing strategies, has always been favored by most of the marketers, and here's why we are here to understand how it has been successful with this report:
1. Amassed Responses By The Respondents:
First, let's begin with the email marketing strategies used by the major B2B organizations.
The email marketing survey developed by the combined collaboration of our researchers and marketers had some specific questions related to email marketing. The respondents who were mainly the marketers and decision-makers of leading organizations were asked some crucial questions related to email marketing. What we got were some surprising responses!!!
63% of organizations have already implemented email marketing in their marketing process, with 37% still not implemented.
The point of observation, in this case, is that almost 50% out of this 37% who did not implement email marketing in their business process were ready to implement it in their strategy very soon. It shows that organizations are realizing the enormous benefits of email marketing and how it can propel their marketing campaign on the right path for generating more revenue and sales.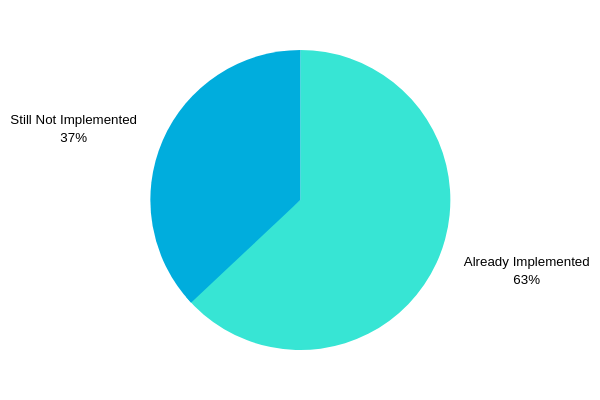 2. Business Communication Via Email Marketing:
The click-through rate which is the percentage of recipients clicking on the emails sent by an organization was average with almost 54% of the respondents saying that they were getting click-through between 10%-20% which shows that customers still value connection via email marketing. Although it's not that great but a well-planned and aggressive approach by combining analytics data and email marketing, one can win this email marketing game.
3. New Strategy:
Every year all the organizations set up a new marketing strategy for improvising their business results. Considering that, we asked our respondents whether email marketing received a major share of their recent marketing budgetary allocation; if not whether they are planning to add in their next budgetary allocation.
The response was, 68% saying that email marketing received a major share of the allocated budget, while 32% saying that it did not receive any budgetary allocation. Out of this 32% respondents who submitted email marketing was not a part of their budgetary allocation, 50% of them admitted that they would like to add email marketing in their next budgetary allocation.
4. ROI Generation:
Generating good ROI is the primary focus of all the organizations.
It's common for any business to test whether the strategy which they implemented is working in their favor. Mostly Marketers and high-level executives want to have an idea of whether investment on a specific strategy generated good ROI. For this reason, they were asked the question, how much percentage of ROI they generated from email marketing.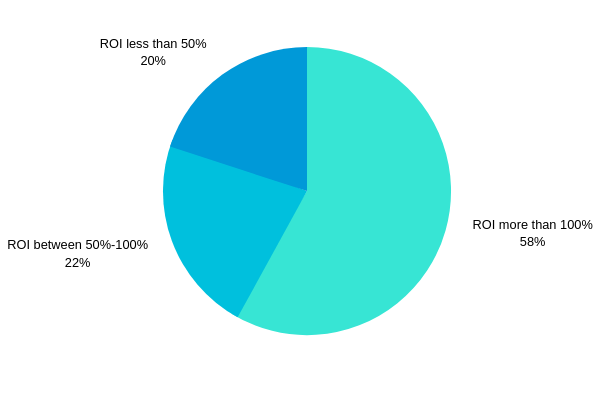 The answer was, 58% saying that they generated ROI more than 100% and 22% saying that they generated ROI between 50%-100% with the rest 20% saying that they generated less than 50%. It shows that the majority of the respondents got good Return-On-Investment, which will motivate them to implement this strategy in the future further.
5. Tested Strategies With Email Marketing:
As discussed before, every organization wants to know whether the strategy is working in their favor.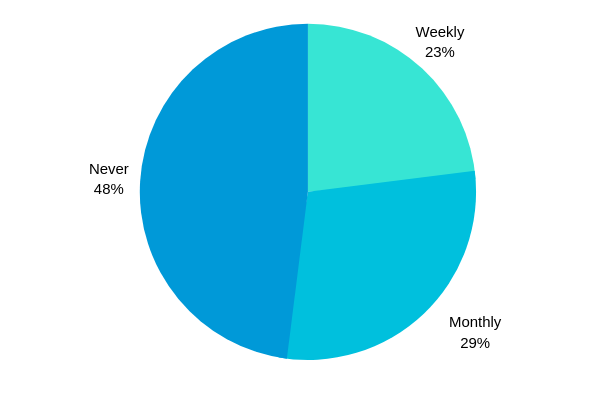 To know whether email marketing has been the most effective mode for their business, this question was asked with 72% saying "Yes" while the rest 28% saying "No." To have a detailed insight of why it was working for some and not for others, and how the process is being followed another crucial question was asked how often they send mails; to which we got interesting response with 23% saying weekly and 29% saying monthly while the rest 48% saying none of these- nor weekly, monthly, or quarterly.
It gives further insight that they do not follow the same strategy with all the organizations. It can be weekly for some, monthly, or quarterly for others. They might be implementing a creative approach to make their email campaign work for disparate businesses.
6. Channels And Tools:
Most of the organizations use various tools and channels to enhance productivity. To understand in-depth, which tools are favored by organizations for email marketing, we asked the same to the respondents. 50% of the respondents favored MailChimp with 50% saying others.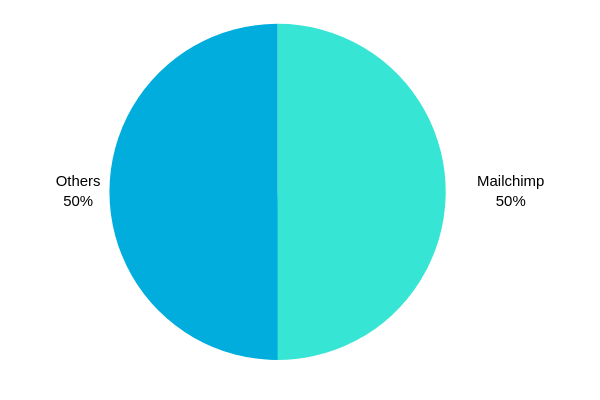 A good number of respondents even said that the other digital channels which they use are social media, SEO, and paid channels. All of these are equally important for organizations, as they use it as per their content strategy.
Conclusion:
From what, we found that email marketing would be an essential part of every marketing strategy. You can also refer to the above report and gain insight to improvise your marketing campaign from 2019. Implementation of the right strategy would make your marketing campaign a highly successful one by outsmarting your competitors.