B2B Tech buying is a complex and stretched out process. This process involves various stages where different decision makers have to give their opinion before purchasing any product or service as it involves hefty investment from the organization.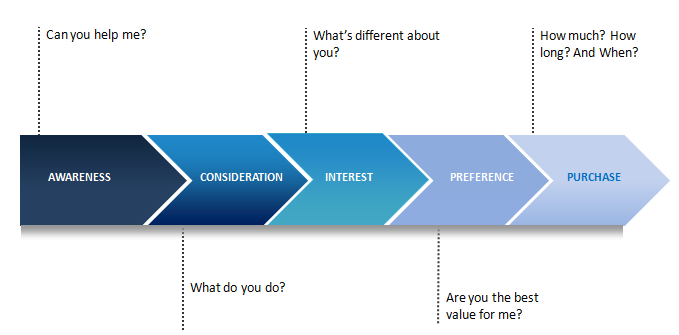 In such a scenario, you have to develop emails making the recipients feel that your services will fulfill their needs. You have to understand your audience and what will make your email tick among them.
Understanding Your Audience:
Without knowing the audience, you cannot develop an email as it will inevitably fail. As a marketer you have to be aware of your customer's requirements, preferences, likes, dislikes, etc. so that it will be easier to align your promotion strategy with the needs of the customer, but before that, you have to know other factors which might affect your buyer's decision:
In which stage are they in their buyer's journey?
What is the size of their company?
Are they the final decision maker or what is their seniority level?
How much are they aware of your products and services?
What are their interests?
What technologies are they using related to their products?
If you can get the right answer for the above queries, then email targeting becomes a seamless process. A correct strategy can be made as you now know what motivates your audience, which will make them prefer your service over other vendors, etc. Their pain point can be used for your advantage, helping to craft a striking email for the audience. As per a survey, it was found B2B buyers even want to hear from their sellers, and in cases shown in the below chart: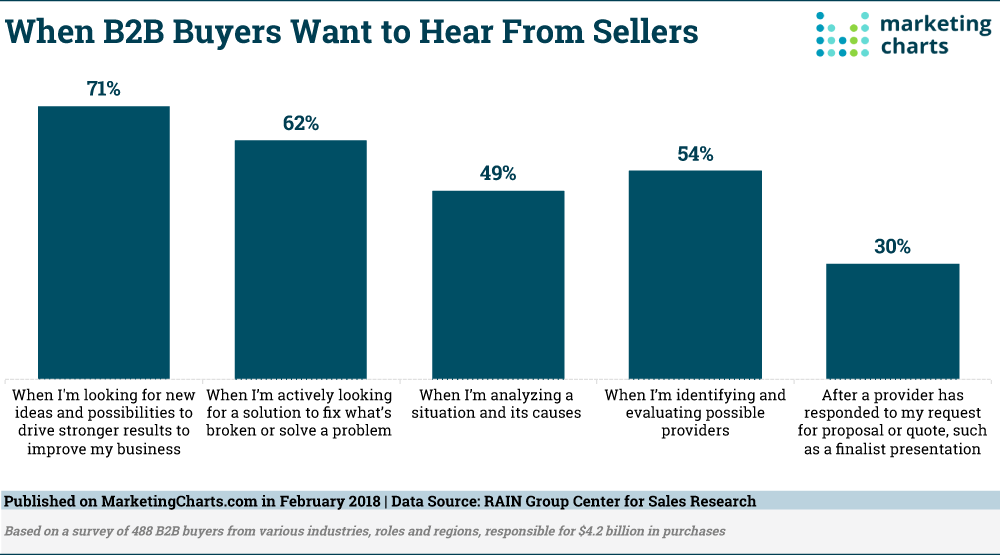 Via: Marketing Charts
Knowing your audience is not enough; you should be aware of the tactics which will compel them to open your email, find out some of them below:
Opening Subject Line Should Be Strong:
The subject line should be catchy to make you stand out from the rest of the senders. It should not deviate from the subject matter and enticing to catch the attention of the recipient. Over the years, marketers have been trying to master this art to improve their campaign results; a strong subject line strikes the right chord with the customer making them give a second look to your email.
Making Engagement The Right Way:
Email engagement is essential in case of B2B buyers. The call-to-action is one of the important extension to engage the customers with the right offer. You can use multiple call-to-action for better results, but at least one of the CTAs should be clearly visible for pushing the customer to take action.
Engagement is the key in making the right and high-value B2B sales. A proper call–to-action builds up an efficient engagement process. It has been found that building a rapport with B2B buyers can help you in the long-run.
Writing In Terms Of The Offer:
Offer are the critical elements in all the email marketing campaigns. The body of the email is a wrapped gift for the audience, while the subject line is the personalized content to attract the audience. So, while sending email include attractive offers with an intriguing effect. Do not display everything in a single email to keep the customer interested. Every email should include some facts and figures aligning with the services to build the credibility of your brand.
Craft A Mail For Your Customer NOT For Your Service:
If you are crafting an email for your service, then you are headed in the wrong direction. It will only bring ME, ME, and ME in the email content. You should be developing an email which shows how your service will make your customer's job easier generating profit for their organization.
Conclusion:
Emails for the B2B tech buyers is a tricky task, as you have to consider many factors before crafting a well-thought email for execution. B2B buyers find the reliability and quality of a product as the main reasons to make the buying decision. So, an email should subtly include these strengths to attract the majority of the buyers.
Although prices also help in the buying decision, if you can make a good impression, then they will be more than happy to pay little more for your service.