Most of the social channels believe that videos are both present and the future of digital marketing.
Why?
Because that's what the data says.
Well not just the social platforms, most of the websites today rely on videos. They are becoming extremely powerful form of communication and the key piece of information.
Over the years, videos have risen into popularity and prominently given a huge return on investment (ROI) whether they are directly on websites, social media, YouTube or any other channels. Videos convey a direct message, they are easy to digest, entertaining and engaging. Videos play a significant role in efficiently conveying a message and that is why marketers are using videos as much as possible to promote their business.
As per Brainshark, "videos are 50% more likely to get organic page ranks in Google than plain text results."
The research says that your webpage is 52 times more likely to show up first on google, if you have a video embedded on your website.
If you are looking for a creative way to stand out from the competition and get noticed, here are just few of the benefits to be aware of having videos on your website.
1. They Do Great In Improving SEO:
If you have ever wondered if video marketing can have an impact on your SEO rankings, the answer is "yes, it absolutely does." It only needs your time and energy in getting it right if you want to reap the benefits. Googles search engines have made a fact that the most beneficial websites offer both text and video content. Well, the studies also reveal that that website pages that include videos are 50 times more likely to come up with the keyword result.
Videos are also the great opportunity to drive traffic acquisition and clearly they can raise your web rankings in SERP's. They alongside improve factors for online marketing efforts like bounce rates and click through rates.
2. It Benefits Your Inbound Marketing Strategy:
It's a fact that viewers form a strong connection with your company when they watch your video versus reading your content. Videos are great to draw customers and keep them on your site longer. Video is highly shareable across various distribution channels and social media platforms.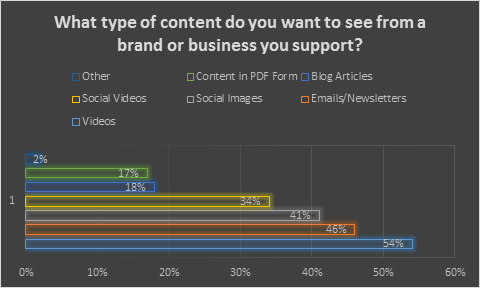 According to Hubspot, when asked the consumers the type of content they would like to see from a brand or a business, 54% of consumers said they want to see videos from brands they support in comparison to email newsletters (46%), 41% were up for a quick social image based content. 34% for social videos, 18% blog articles and more.
3. They Better Your Conversion Rates:
A picture is worth a thousand words and a video is worth a thousand sales. Videos are one of the few strategies that work well regardless of the category of the industry you operate in. It has the ability to illustrate a brand's story, personality and presence. According to the bench mark report by analytics platform Vidyard, 68% of the marketers voted that the video marketing did well with conversion rates compared to the content marketing or any other marketing.
4. Videos Are Quicker And Great To Deliver A Message:
Whether it is connecting with customers, promoting your products/services or closing a deal with your prospective audience, videos will help you enhance client communication and drive new business. Well, this means, videos are the great way to get your messages, quickly and easily. Offcourse, videos are never meant to replace content but they are the great compliment and will strengthen your message over all.
5. They Are Entertaining And Engage Your Web Visitors:
Your brain loves visuals and even so, it loves entertainment. It is the creative canvas with elements of color, life and movements. They are great to uncover stories about your business helping your customer to connect on a deeper level. Hence, videos are now one of the top ways for brands to convey their story. Videos don't really have be showcased strict and conventional, it can even be funny and entertaining. All that matters is to make your message more memorable so that your consumers remember you.
6. They Increase The Reach, Strengthen The Bond And Drive Traffic To Your Website:
Like any other forms of content, social media marketing, videos too are the great way to help you increase reach when they shared on websites or any other social platforms. The custom designed videos are perfect to strengthen the bond between you and your customers. Whatever your industry is, utilizing custom videos will make to stand out and encourage regular visits which will in turn drive traffic to your website.
7. Improves Your Website Performance As Well As Personality:
Embedding a video into your website is just as effective as offering free goodies to your clients. Visitors love watching videos and hence will give you the boost in search visibility and in turn improves the site performance. Whether you want to be funny, sophisticated or professional, video messaging is the best way to emit an emotional response. Humanizing your brand with the help of the video great way of portraying personality to the customer.
8. Video Builds Brand Trust:
That's right, the right kind of video with the right message is a great way to help build brand trust and establish connections. Everything that your audience experience about your product/service tells a story.
A study reveals that shoppers would rather watch a video about the product than read about it as seeing builds trust and also seeing means believing. So yes, ethics, responsibility and delivering what is promised are some of the ways to build trust and gain loyalty. But be warned, building trust with a remarkable video will not serve the purpose if the brand can't deliver on its promise.
9. Video Is Appealing To Mobile Users:
Today, 80% of the consumers watch videos on their smartphones. Both mobiles and videos go hand in hand, which means watching videos is more common than using them for music. As the mobile video consumptions are doubling every year, the importance of video marketing is steadily rising. Our research also suggests that smartphone users are not just inclined to watching videos, but are likely to share them.
10. Convert Prospects To Shoppers:
Videos are used as a prominent tools by consumers when deciding to make a purchase. A study by whereoware reveals that the product video when viewed as a video increased sales between 6 to 30% compare to just seeing as an image. Online shoppers consistently say that they find video helpful in their decision making process. And retailors who use online videos to promote their products say that they saw prospects becoming their potential customers.