Take advantage of Linux users list to engage companies that are customers of Linux
Why Buy Linux Users List from InfoClutch?
We'll Get Back To You Shortly!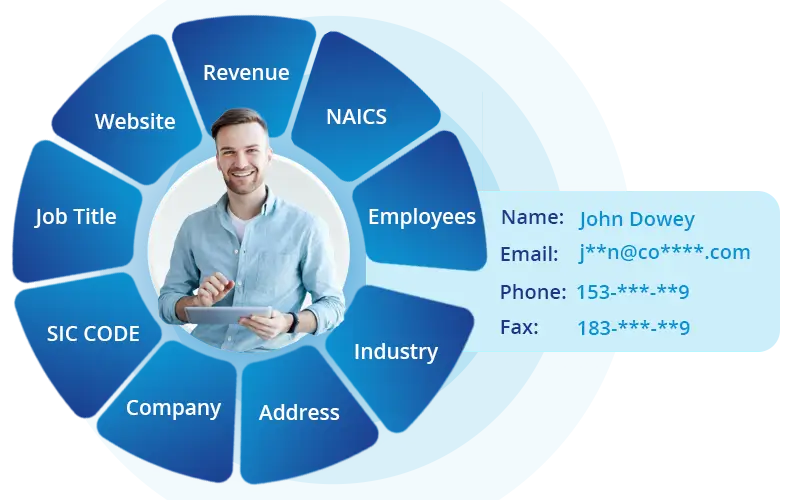 Linux is an open-source and community-backed operating system (OS) primarily used to develop system mainframes, servers and embedded devices and applications. B2B technology marketers looking to advertise their services and products can rely on InfoClutch's Linux Users Email List to effectively deploy their sales pitches.
Curated from authentic sources and pre-verified channels, our data sets consist of a wide range of contact records for prospects across all prominent sectors. More importantly, the provided lists contain specific details that enable organizations to quickly identify receptive market segments.
Our experts also conduct a multi-step evaluation process to ensure that each provided Linux Users List hosts accurate and updated contact information and is relevant to particular campaign and business objectives. This helps businesses adopt a structured approach to scaling their marketing ROI.
Moreover, the provision of contact details for critical industry decision-makers alongside geo-targeted information ensures that your promotional strategies have an extended reach while having access to international markets.
Simply put, with InfoClutch, your B2B campaigns receive a complete transformation.
Features and Benefits Of A Uniquely Responsive Linux Software Users List
The team at InfoClutch ensures that the internal data collection procedures are built upon industry-leading practices. As such, the hosted Linux Software Users List is specifically curated to deliver targeted marketing avenues for businesses..
In addition, our experts assess the provided data set to ensure that each list contains relevant and impactful prospect details that will aid the successful execution of a campaign.
Some of the other benefits and features of our Linux Users Mailing List are as follows:
As such, our data solutions are perfectly poised to increase your business revenue while helping develop a dominant market position.
Focus Your Promotional Efforts With A Segmented Linux Users Email List
Employing a team of over 100 data specialists and market researchers, InfoClutch ensures that each provided Linux Users Email List is of the highest quality.
To start off, the hosted database is segmented based on specific data markers. This categorization enables businesses to choose particular elements that will be especially relevant to their campaign's overall scope. Following that, marketers can also request specific selects to be included in a contact list.
As such, some of the selects we offer across each Linux Users List include the following:
This comprehensive approach to data segregation and market segmentation enables advertisers to quickly pinpoint the prospects that will be most receptive to a product or service. Once that's done, it's only a matter of leveraging the other provided details to conceptualize a sales pitch that addresses specific audience pain points.
In other words, InfoClutch doesn't just help with lead generation. It also aids businesses in managing their total addressable market.
Customize your Linux Users List by

assets size
company size

geographic locations

Industry

job titles

SIC / NAICS code

technology tracking

zip code
We'll Get Back to you Shortly!
Leverage A Multi-Purpose Linux Software Users List For Seamless B2B Growth
There are several challenges regarding lead engagement and retention in the current B2B landscape. The need for consistent communication channels and contextually relevant promotional efforts are two primary examples here.
This is why we curate our Linux Users Mailing List to host supportive information that aids in the general execution of a pitch.
For example, marketers can use the included geo-specific details to build a local mailing database. Following that, they can set designated times for each member to receive product samples or newsletters, brochures and other physical promotional material.
Conversely, businesses can leverage the Linux Software Users List to:
In short, with InfoClutch's data solutions, your organization gets access to the most desired B2B objective: marketing success.
Experience Tangible Business Growth With InfoClutch
Over the years, the team at InfoClutch has worked incredibly hard to help advertisers and marketing organizations to scale their promotional strategies. As such, it is our dedication to providing actionable, responsive and data-driven solutions that has helped us succeed in this context.
When you opt for our Linux Users Email List, you don't just get access to streamlined lead generation. You also get the opportunity to connect with industry experts and professionals such as:
So, contact our sales team today if you want to discuss any marketing requirements. Once notified of your campaign objectives, our team will curate a data set that will deliver on all your desired goals. If you'd like to know more about our data solutions or would like to discuss your business requirements, contact our sales team.
Don't hesitate a moment longer! B2B success is just a call away!
What I liked most about InfoClutch is their commitment to deliver the best-in-class services to their clients.
Robert,

InfoClutch delivered fresh data that supported my business objectives and gave the conversions I have never got before.
Nancy,

Authentic and complete information that saved our time and helped us focus on campaign strategy.
Xin Lee,

It was pleasure working with a company who understood our concern and addressed it in a timely manner.
Sara,

Have worked with many email list providers but the experience I had with InfoClutch team was exceptional.
Michael,

I am very satisfied with the quality of the list InfoClutch provided us. It helped us in our multichannel marketing campaigns a lot.
Peter,