Find businesses that use IBM products using the most accurately segmented IBM users list.
Why Buy IBM Users List from InfoClutch?
We'll Get Back To You Shortly!
We Track All IBM Products Users Such As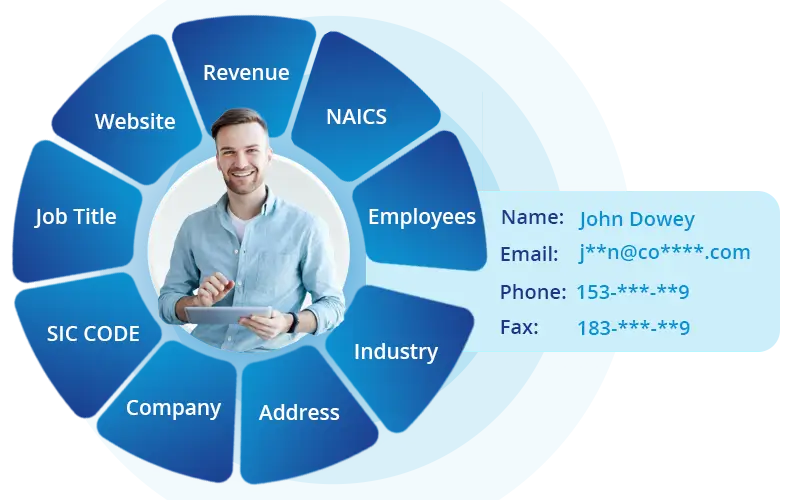 IBM offers a range of enterprise management, cloud-based data storage, security, web development and business intelligence applications. And with a revenue of $57 billion in 2021, it is one of the leading providers in the public cloud service market.
InfoClutch's IBM Users Email List can provide marketers consolidated access to over 305,000 contacts for the software suite's existing clientele. Gathered exclusively from pre-verified channels, like public directories, yellow pages and opt-in sources, our data set undergoes a multi-step evaluation to ensure complete lead accuracy and responsiveness.
By merely leveraging the provided information, software and tech advertisers could seamlessly establish beneficial communication channels with critical corporate figures, pitch their products to prominent companies, and exponentially expand their current market base.
Moreover, periodic updates to our database ensure that the deployed promotional strategies are always based on relevant and industry-consistent information.
To put it simply, our IBM Users Email List enables businesses to execute secure campaigns while experiencing unprecedented marketing ROI and revenue growth.
DATA CARD – IBM USERS LIST
CATEGORY
PRODUCT
INSTALL COUNT
Application Development & Management
IBM Informix Genero
72
IBM ISPF
2787
IBM Rational Application Developer
1828
IBM Rational AppScan
142
IBM Rational Developer
182
IBM Rational Software Architect
871
IBM Rational Software Modeler
233
IBM Rational Unified Process
2987
IBM Tivoli Application Dependency Discovery Manager
157
IBM WebSphere
18214
IBM WebSphere Application Server
5128
Asset Performance Management
IBM Maximo
4890
Business Intelligence
Cognos
17405
Cognos 10
2205
Cognos 8
3316
Cognos 9
37
Cognos Enterprise
458
Cognos Express
105
Cognos Insight
371
Cognos Series 7
2503
IBM InfoSphere Information Server
265
Change Management
IBM Rational ClearQuest
2653
IBM Rational DOORS
1201
Collaboration
IBM Lotus Domino
6027
IBM Lotus Notes
20517
IBM Sametime
923
Commerce
IBM Sterling Commerce
886
IBM WebSphere Commerce
1203
Communications Technology
IBM VTAM
1201
Customer Relationship Management (CRM)
IBM Tealeaf
580
Data Archiving, Back-Up & Recovery
IBM Tivoli Storage Manager
3262
Data Management & Storage (Hardware)
IBM Storage Area Network (SAN)
1131
IBM System Storage Disk Systems
1327
IBM Tape Systems
721
IBM TotalStorage
401
IBM XIV
618
Netezza
2509
Database Management Software
DB2
20176
IBM DB2 Connect
483
IBM DB2 Database Server for Linux, UNIX, and Windows (UDB)
2343
IBM DB2 for z/OS Operating System
382
IBM IMS
505
IBM Informix
5982
IBM InfoSphere
2791
Electronic Data Interchange (EDI)
IBM Sterling Gentran
2123
Enterprise Content Management (ECM)
IBM FileNet
3610
Enterprise Performance Management (EPM)
Cognos TM1
2242
HR Management Systems
IBM Smarter Workforce
2268
Kenexa Brassring
1157
Information Technology Management
IBM InfoSphere Platform
3986
IT Infrastructure & Operations Management
IBM GPFS
687
IBM JES2
1267
IBM Tivoli
11037
IBM Vsam
3809
IBM WebSphere Message Broker
1550
Mainframe Computers
IBM 3090
2522
IBM Mainframe
7813
IBM System z Mainframe
3597
Marketing Performance Measurement
IBM Coremetrics
2487
IBM Unica
3266
Middleware Software
IBM CICS
6568
IBM Websphere MQ
3158
Midrange Computers
IBM AS/400
28350
IBM System i Midrange Computing Server
3154
Operating Systems & Computing Languages
IBM AIX
3989
IBM i (formerly known as i5/OS)
2583
IBM z/OS Operating System
3422
IBM z/VM Operating System
513
Project Management
IBM Rational RequisitePro
1505
Quality Management System
IBM Rational Functional Tester
967
IBM Rational Performance Tester
432
IBM Rational Quality Manager
676
IBM Rational Robot
1206
IBM Rational Test RealTime
788
Reporting Software
Cognos Impromptu
2361
Cognos ReportNet
1201
Server Technologies (Hardware)
IBM Power Systems
1856
IBM Server
3962
IBM System p Server
2753
Software Configuration Management (SCM)
IBM Rational ClearCase
2912
IBM Rational Team Concert
912
IBM SMP/E
755
Supply Chain Management (SCM)
IBM ILOG
1452
System Analytics & Monitoring
IBM SPSS
20382
System Security Services
IBM RACF
1473
IBM Security Directory Server
462
IBM Security Identity Manager
721
IBM Tivoli Endpoint Manager
865
IBM Tivoli Identity Manager
709
Visualization Software
IBM Rational Rose
5440
Web & Portal Technology
IBM Netcool/Portal
143
IBM Tivoli Access Manager
735
IBM WebSphere Portal Server
1025
Customize your IBM Users Email List by

assets size

company size

geographic locations

Industry

job titles

SIC / NAICS code

technology tracking

zip code
We'll Get Back to you Shortly!
Distinctive Features of Our IBM Users Email List
InfoClutch's team of data experts focuses exclusively on providing contact records for relevant target groups. As such, our IBM Users Email List hosts information across all the prominent industry verticals, enabling you to build strategic partnerships with profitable global organizations.
Each data set is also curated to offer substantial business growth and enhanced marketing ROI. Some of the most attractive features of our database are as follows:
• 95% accuracy to ensure exceptional deliverability
• 100% consensual information from genuinely interested prospects for improved CTR and CTOR
• Comprehensive multichannel marketing support through a range of platform details, including social media handles, email IDs, mailing addresses, tele-contacts
• Consistent updates to maintain consistency with any new industry developments
• Thorough compliance with standard data regulations, such as CAN-SPAM, GDPR, CCPA, etc.
• Exclusively sourced from legitimate channels and directories
• Easily accessible formats as per client request
Deploy Targeted Campaigns With InfoClutch's IBM Users Mailing List
With a team of over 100 market analysts and researchers, our ability to provide a result-oriented and high-quality IBM Users Mailing List sets us apart from the rest.
As such, our database is segmented across a range of categories to enable organizations to adopt focused promotional strategies. In addition, the provided contact information is entirely customizable according to specific business objectives.
As such, our database is segmented across a range of categories to enable organizations to adopt focused promotional strategies. In addition, the provided contact information is entirely customizable according to specific business objectives.
Prospect Name & Professional Details
Email Addresses
Postal Addresses
Phone Numbers
Fax Numbers
Company Name
Company Website
Business Revenue
Industry
Technographic Details
Market Demographics
Firmographics
And More!
Such comprehensive coverage regarding prospect details ensures that your promotional efforts never want for any information. In short, with InfoClutch, advertisers never have to worry about peripheral market research.
Transform Your Conversion Funnels With Our IBM Users List
In the current B2B market, prospect and lead retention is the only effective way to maintain consistency across your sales and marketing pipelines. With this in mind, our experts include critical contact details in the IBM Users List to enable businesses to adopt various strategic promotional efforts.
Run personalized email campaigns, deploy impactful content on online channels or host in-person or virtual meets. You could even send direct product samples or appreciation tokens to your prospects with our IBM Users Mailing List.
That's not all! Take a look at some of the other areas our data sets can help you with:
Streamlined lead generation to capture new market niches and retain sales-qualified prospects
Strategic pitch execution and deployment based on specific phases of the conversion funnel
Automated email drip campaigns to update your leads and mitigate constant marketing interference
Improvements to the product development pipeline based on lead feedback and market pain points
Enhanced audience retention and seamless access to critical corporate figures in the related industry
Simply put, whatever your strategy may look like currently, with InfoClutch, it can always go a step further.
Establish Your Market Position With InfoClutch
There's no such thing as an unresponsive lead. If the campaign or the pitch is executed in the proper manner, organizations will definitely reach out to the respective marketer. Regardless, the actual challenge comes from identifying where your promotional efforts will be most effective.
That is precisely why we consider crucial elements, including market demographics and firmographics, when curating our IBM Users Email List. That enables advertisers to expand or narrow their Total Addressable Market (TAM) based on the gathered information.
You can also request contact information for various departments and executives when you opt for our IBM Users List, including:
C-Level Executives
Software Engineers & Developers
Corporate Procurement & Purchasing Directors
Systems & Network Analysts
Marketing & Sales Executives
Web-Based Programmers
And More!
Indeed, InfoClutch's marketing data solutions has proven to be immensely effective in helping countless organization establish their position in their related sectors. Our focus on providing a selective, impactful and, most importantly, responsive approach to lead generation is the primary driving factor that has helped in this regard.
Rest assured that with us, your marketing efforts could experience unparalleled growth. So, don't hesitate a moment longer. Contact our sales team today if you want access to our data sets for IBM users.
What I liked most about InfoClutch is their commitment to deliver the best-in-class services to their clients.
Robert,

InfoClutch delivered fresh data that supported my business objectives and gave the conversions I have never got before.
Nancy,

Authentic and complete information that saved our time and helped us focus on campaign strategy.
Xin Lee,

It was pleasure working with a company who understood our concern and addressed it in a timely manner.
Sara,

Have worked with many email list providers but the experience I had with InfoClutch team was exceptional.
Michael,

I am very satisfied with the quality of the list InfoClutch provided us. It helped us in our multichannel marketing campaigns a lot.
Peter,