Marketing Cloud Platform We Track
What is Marketing Cloud?
The marketing cloud platform delivers relevant journeys across different channels and devices. This enables the marketers for providing the right message at the right time as per all phases of the customer relationship. Marketing cloud includes the solution for customer engagement, social, mobile, email, content, advertising, and data analysis. Every interaction with the customer is covered and is made as one-to-one customer interaction.
Global Marketing Cloud Platform Market Share (%)
| | |
| --- | --- |
| Company Name | Market Share |
| Salesforce | 10.5% |
| Adobe | 9.7% |
| Google | 6.2% |
| Others | 73.6% |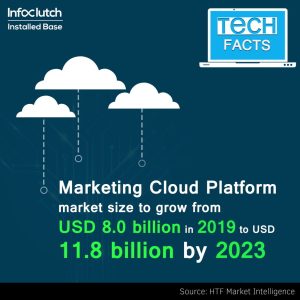 Companies Using Marketing Cloud Platform (Sample Data)
| Company Name | Website | Address | Address 1 | City | State | Zipcode | Country | Phone Number | Employee Size | Revenue Size (USD) | SIC Code | SIC Industry |
| --- | --- | --- | --- | --- | --- | --- | --- | --- | --- | --- | --- | --- |
| Be The Match | www.bethematch.org | 5** * 5t* Str**t | | Minneapolis | MN | 55401 | United States | (8*0) *27-7**2 | *02 | | 8062 | General Medical and Surgical Hospitals |
| Belimo Americas | www.belimo.us | 33 Turn*r R*ad | | Danbury | CT | 6810 | United States | (8*0) 5*3-9**8 | *,5*2 | *93.9 M | 3822 | Automatic Controls for Residential and Commercial Environments |
| JAB Anstoetz | www.jab.us | *7* Th*rd Av*. D&D Bu*ld*ng | Suite **2 | New York | NY | 10022 | United States | (2*2) 4*6-15** | 40 | 8 M | 2231 | Broadwoven Fabric Mills, Wool |
| The Hertz Corporation | www.hertz.com | 85*1 Wi**i*ms Ro*d | | Estero | FL | 33928 | United States | (23*) 301-70*0 | *7,000 | *.8 B | 7514 | Passenger Car Rental |
| UserTesting Inc | www.usertesting.com | 2*72 B*yshor* P*rkw*y | Suite **3 | Mountain View | CA | 94043 | United States | (*50) 5*7-5*2* | *06 | *1.2 M | 9651 | Regulation, Licensing, and Inspection of Miscellaneous Commercial Sectors |
The features of the Marketing Cloud are:
Predictive intelligence
Pre-built templates
1:1 personalized content
Email marketing
Marketing automation
Real-time tracking and reporting
Cross-channel integration
Deliverability tools
Customer data platform
Message for each step of customer's journey
The benefits which Marketing Cloud provides are:
Improved lead generation and assignment
Increased relevancy of the marketing and sales message
Personalized tracking of sales points
Improved insights into the campaign performance