Organizations always need right tools and technologies to streamline their process and generate desired business results. Now, BI is such tool that helps in accurate recommendations of products to customers. And if you're a consumer-centric company, this tool can significantly help your business.
For more clarity, let's understand from beginning:
What is a business intelligence tool?
They are the application software used for collecting and processing huge unstructured data and structured data. While structured data can easily be processed to make sense of information, deciphering unstructured data is challenging. The unstructured data include images, videos, social media data, emails and others. The business intelligence tools can transform these data into business insights.
And when you have accurate insights, you can make result-oriented decisions for organizations.
The business intelligence tool users can explore more opportunities as they have right information to refer to.
How do BI tools work?
Business intelligence combines data mining, data tools, business analytics and data visualization, etc. to enable users in data-driven decisions. The amalgamation of all, makes a BI tool more effective and efficient.
Today, we'd discuss the two popular BI tools, which are Tableau and SAS.
Let's understand in detail the pros and cons of these application software:
Tableau: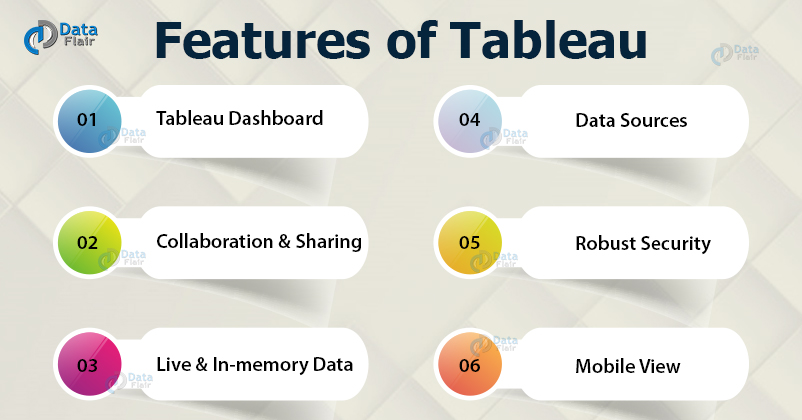 The common features of Tableau are advanced visualization, tableau dashboard, robust security, collaboration and sharing, mobile view, live & in-memory data and data sources. The solution has a drag and drop functionality which is easy to use for any person who isn't also from a technical background. It has patent query language known as visualization query language.
The software also helps in data visualization. It creates graphs, charts and other statistical representations that are highly interactive. By referring to this, business can gain right insights. The tools that you can integrate with this software are Dremio, SAP HANA, Timescale DB, Apache Kylin and many more. It has vector operation support. The languages supported are German, Chinese, English, French, Japanese, Spanish and Portuguese. It is supported on Windows, Linux, Android, iPhone, iPad, web-based.
Tableau is widely used in computer software, information technology and healthcare industry. The solution is primarily helpful for mid-sized and large enterprises.
The companies that use this software are Abacus health solutions, Abridge Info Systems, Adjmi Apparel Group amongst others.
Pricing:
It has quote-based, one-time payment and annual subscription
The pricing is $70 USD/user/month.
What is SAS?

It is also a business intelligence tool that helps in predictive modeling, but it's more of a command driven software package. The solution is considered a 4th generation programming language that has easily executable programming code.
The crucial features of this software are support for various data formats, strong data analysis capabilities, data encryption algorithms and many more. It has some additional features that you don't find in other software such as association discovery, metadata management, statistical simulation and others. The statistical simulation helps rightly in assessing the performance of various methods. The components of SAS business intelligence are enterprise business intelligence and enterprise business visualization. The enterprise component helps ensure that capabilities are enabled to use while business visualization checks that visualization studio helps access the SAS library files in SAS program. It is one of the instructive features.
This solution has applications such as presenting output data in different format, using tools such as descriptive statistics, linear programming, etc.
SAS is used across many businesses worldwide. The solution is helpful for small and mid-sized businesses along with the large enterprises. The organizations that use this software are UnitedHealth Group Inc., KMM Technologies, Pinnacle Solutions and others. The language supported is only English. It is supported on Windows, Android, iPad, iPhone and web-based.
Pricing:
It is quote based.
The pricing starts from $9000/year/user, which also means $750 per month.
What are the advantages of BI tools?
It helps in making smarter business decisions
It helps in visualizing reports
The tools provide complete customer satisfaction
Accuracy
Operational efficiency
Are there any disadvantages of BI tools?
The tool can be expensive
There could be chances of data breaches
Need to adopt BI in all areas or it would be ineffective
Conclusion:
To stay relevant in market, organizations should have the right strategy, technology, process at place; it would help them yield right results.
The business intelligence tools just as the name says offer intelligent solutions to organizations so that they can improvise revenue. You need to choose the best fit as per the features and budget.