From your first-ever sales to overseas business transactions, streamlining your finances is the most crucial step in managing a venture. However, with the rapid rise of multiple accounting software, picking the right one becomes challenging.
The most commonly used accounting tools are Sage 50 and QuickBooks. Currently, 14,554+ companies use Sage as their primary accounting software. However, despite being younger than Sage, QuickBooks carries a global user base of 5.3 million, surpassing the previous record of 4.3 million in 2020.
Since both of the software carry an enormous user base along with affordable packages, the Sage 50 vs. QuickBooks debate is obvious.
This article will give you precise information to help you make the right decision to improve your financial operations and organization!
What is QuickBooks?
QuickBooks is an accounting software by Intuit, which provides desktop and online accounting tools along with cloud-based solutions to organize business data. It is one of the most widely used accounting software small businesses employ to keep track of their income and expenses. From paying bills to preparing taxes, this tool enables businesses to manage inventory in real-time from anywhere without any operational or execution lags.
The main services offered by the software that you can consider are:
QuickBooks Payroll
QuickBooks Commerce
QuickBooks Online
QuickBooks Live
QuickBooks Payments
QuickBooks Time
QuickBooks Payroll
This feature enables businesses with 50 employees to provide a hassle-free payment transaction option either through cheque or direct deposits. In addition, it also provides you the facility of automatic calculation of year-end taxes, including local, state, and federal assessments.
QuickBooks Commerce
If you want a unified repository of all the orders, this feature is perfect for you. It enables businesses to receive the real-time status of every transaction. On top of this, it provides an easy integration solution with other sale channels and B2B platforms.
QuickBooks Online
This solution provides quick access to accounting information for any business using a cloud-based service. Through this feature, you can also customize your invoice per the client's requirements within the software.
QuickBooks Live
This service allows small businesses to consult with expert bookkeepers in a virtual mode. Using live solution, you can get in touch with certified professionals to take the lead on bookkeeping and create essential reports to scale your venture.
QuickBooks Payments
From getting paid digitally to generating pay-enabled invoices, QuickBooks Payments ensures streamlining of transactions seamlessly. It also includes different methods for your customers to make payments per their choice and convenience.
QuickBooks Time
If your business requires tracking billable hours for employees or clients, this solution is the perfect option to keep track of payments and productive hours.
What is Sage 50?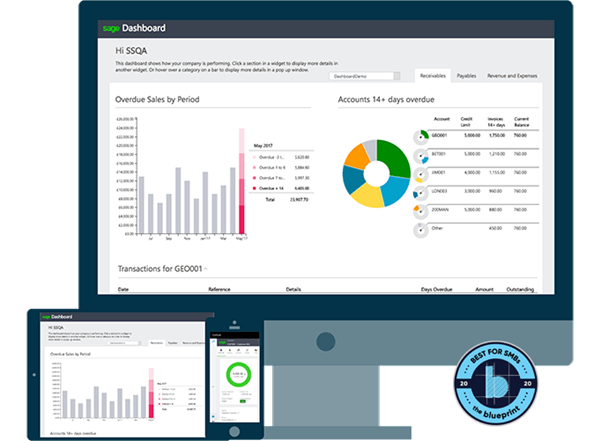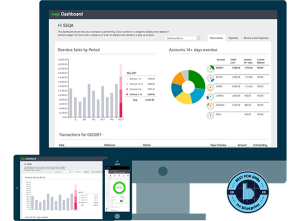 Sage 50, previously known as Line 50, is reputable accounts solution that businesses use for regulating the financial operations of an organization. It is an easy-to-use software that provides flexible and customizable services to manage the most complicated financial systems and data.
Note: Sage 50 has revamped its platform to make it more intuitive by incorporating cloud features through Sage 50 cloud. It allows combined financial control through both online as well as on-premise software deployment.
Solutions offered by Sage 50
Cash Flow Manager
Payroll Setup
Inventory Management
Job Costing
Sage Security Shield
Reporting
Launched as a small and medium business accounting tool, Sage 50 carries a range of impressive services. The top 6 features of the software are:
Cash Flow Manager
This invoicing system lets you gain a quick understanding of cash flows in different transactions. It allows a comprehensive view of finances by customizing cash flow settings and filtration of transactional types.
Payroll Setup
It's a service integrated into the software to enable employee record tracking for payments and easy payment processing. In addition, it also provides quick calculation of payroll for the hourly employed staff by incorporating time tickets management.
Inventory Management
This Sage 50 solution enables you to keep track of the inventory. It involves information entry of sales account, inventory account, and cost of sales account to record and analyze the daily expenses.
Job Costing
Job costing is an innovative addition to the software which enables businesses to make an estimate for project completion. It also provides reports during the project's running course to gauge the amount spent and net revenue dues.
Sage Security Shield
This is an industry-first security feature to empower small businesses to take control of their business identity protection.
Reporting
This is a unique service provided by the software to gain insight into various segments of industries. It includes one-click report customizations for payables, receivables, expenses, taxes, and payrolls for informed decision-making.
Sage 50 vs. QuickBooks: Which one should you select?
While both of the software are created to assist businesses in managing their finances effortlessly, each tool has its unique set of benefits. Here's how you can make the right choice for your business.
QuickBooks should be your choice if you
Manage your business on your own
QuickBooks offers freelancers and small business owners an easy-to-use interface with customizable options. Even for beginners, the software allows an easily navigable setup to start organizing your financial operations. In addition, you can also leverage the QuickBooks Online feature for cloud-based anytime and anywhere operations.
Require mobile accounting
From sending invoices to capturing receipts, you can easily conduct your day-to-day affairs on mobile with QuickBooks. Additionally, it enables users to assign expenses and view reports through the app on the go.
Need Expert Consultation
With QuickBooks, you can consult with experienced and certified bookkeepers to gain insights into your financial operations. The platform offers live counseling with leading bookkeepers who align them with your current finances.
Want an Easy-to-Use Banking Method
With QuickBooks Online, you can conveniently manage your bank feeds, reconcile bank statements, manage cash transactions, and print cheques.
 

QuickBooks Features

 

 

Cloud Accounting
Professional Invoice and Sales Receipt Management
Online Banking
Cash Flow Management
Accounting Reports
Multiple User Collaboration
Time Tracking
Extensive Flexibility for Professionals and Non-professionals
Sage 50 should be your pick if you
Have a professional bookkeeper onboard
Sage 50 offers businesses highly intuitive software. Other than the on-premise version, you can also use the Sage 50 cloud variant. Even though it offers the ease of remote centralization, the maneuverability of the tool is what professionals will find easier to manage.
Require project accounting and job costing
From real-time report curation to project cost estimation, Sage 50 provides an inclusive feature to assess the overall expenditure incurred during a job or contract. It helps you maintain accurate details of the projects within the organization without any manual upkeep.
Need to manage multiple channels
Sage 50 is the perfect platform for the consolation and centralization of multiple channels to manage money flow. From the management of different financial statements to tracking intercompany transactions through the cloud-based software, you can execute all with minimal effort.
Demand emphasis on unreconciled deposit tracking
One of the most innovative features of Sage 50 is its availability of great banking methods for reconciling deposits. You can segregate the transactions on the basis of the outstanding balances and in-transit deposits.
 

Sage 50 Features

 

 

Professional Accounting Management
Online Bill Settlement
Inventory and Project Management
Customer Management Center
Email Invoicing
Services Management Portal
More Than 100 Trends and Insights Report
Scalable Solutions with Useful Accounting Modules
Sage 50 vs. QuickBooks at a glance
Here's a comparison table to make the decision easier for you:
| | | |
| --- | --- | --- |
| | Sage 50 | QuickBooks |
| Maximum Users Allowed | 1 to 40 | 1 to 25 |
| Estimate Reporting | Yes | Yes |
| Need for Professional Bookkeeper | Yes | No |
| Invoicing Collection and Tracking | Yes | Yes |
| Sales Tax Estimation | No | Yes |
| Cloud Scalability | Yes | Yes |
| Sales Tax Returns Filing | No | Yes |
| Inventory Management and Tracking | Yes | Yes |
| Beginner/ Non-Accountant Friendly Interface | No | Yes |
| Project Job Costing Estimation | Yes | No |
| Integrated Payroll | Yes | Yes |
| Creation of Sales Orders | Yes | Yes |
| Monthly Pricing | Starts at $56.08 for a single user | Starts at $25 for a single user |
| Pricing Options | Monthly plans of Pro, Premium, and Quantum Accounting | Monthly packages of Simple Start, Essentials, Plus, Advanced, and QuickBooks Live |
In a nutshell
If you're a small business on the lookout for the perfect Accounting software, the confusion about Sage 50 vs. QuickBooks is natural. Since both of them are the leading accounting software with a range of innovative features, picking the right one requires something more than just affordability.
There are various features that you need to observe in a software. According to Justin Hatch from Reach Reporting, protection of a company's financial information is crucial for businesses of all sizes. But that's not all.
To choose the perfect accounting software, you need to be in line with your requirements and goals.
Sage 50 offers easy scalability solutions with multiple features like AutoEntry. QuickBooks, on the other hand, is ideal for small businesses in need of advanced features like QuickBooks Live for expert consultation.