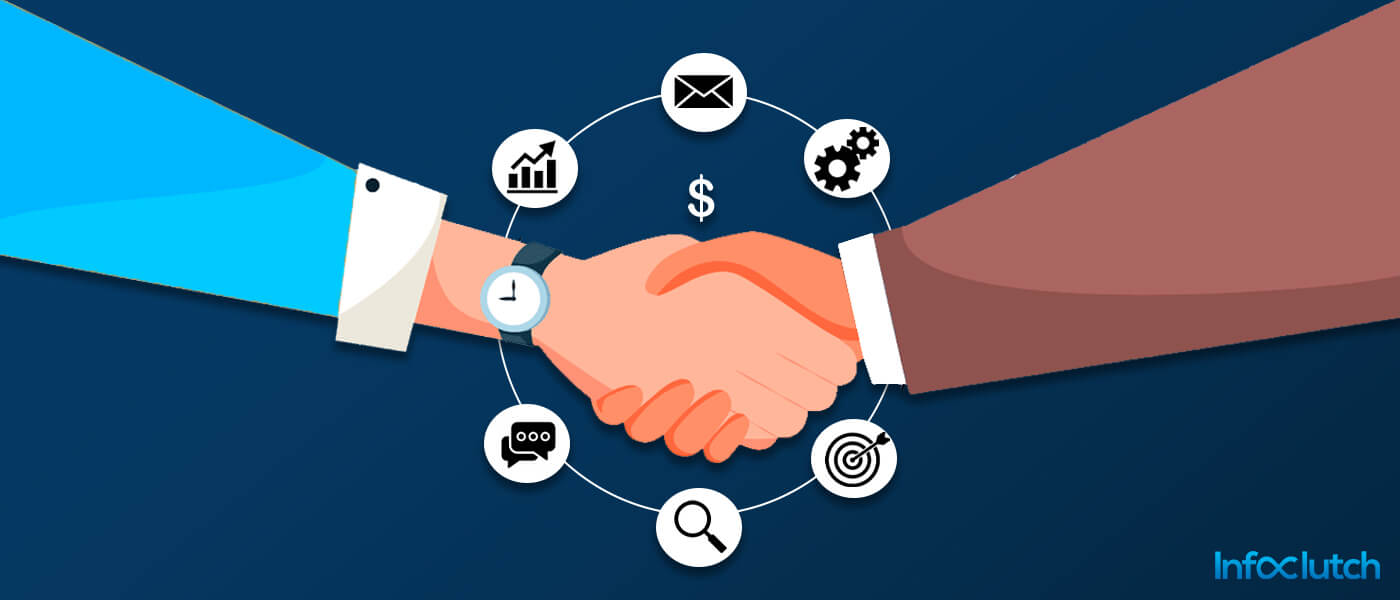 Jan 04, 2022
Posted By: Robert Jordan
Category: Technographics Data
You might be having trouble closing B2B deals with improper leads. Or, you want to revamp your strategies to craft an effective B2B sales closing mechanism. Either way, you will need to have a clear view of the sales process, understand closing tips and avoid mistakes. A Sales Benchmark Index Study suggests that 58% of various sales opportunities are unsuccessful. So, you are not alone in this whirlwind of B2B consumerism.
Yet, you can come out of this loophole with proper techniques and strategies.
Maybe the phrase B2B sales speak to you in a promotional and business-oriented manner. Ideally, you are not wrong, but Business-to-Business (B2B) sales are much more than a mere transaction.
Read on to find out more.
The Definition of B2B Sales – What are B2B Deals?
Source : Moz
According to Audrey Webber, B2B sales is a situational relationship between two or more business entities. It describes a transaction based on the services and goods of one company being sold to another. B2B sales is an effective way to keep the marketplace diverse in a particular industry.
Even though face-to-face sales were efficient, about 89% of sales representatives spent time selling online.Unlike B2C sales, B2B sales consist of bigger deals with higher marginal value. Therefore, it can potentially become a lucrative and rewarding approach for your company.
With a professional B2B sales strategy and process, you can gain prospects and grow your business. This way, you can reach your goals easier and quicker.
Creating a Proper B2B Sales Process – A Step-by-Step Guide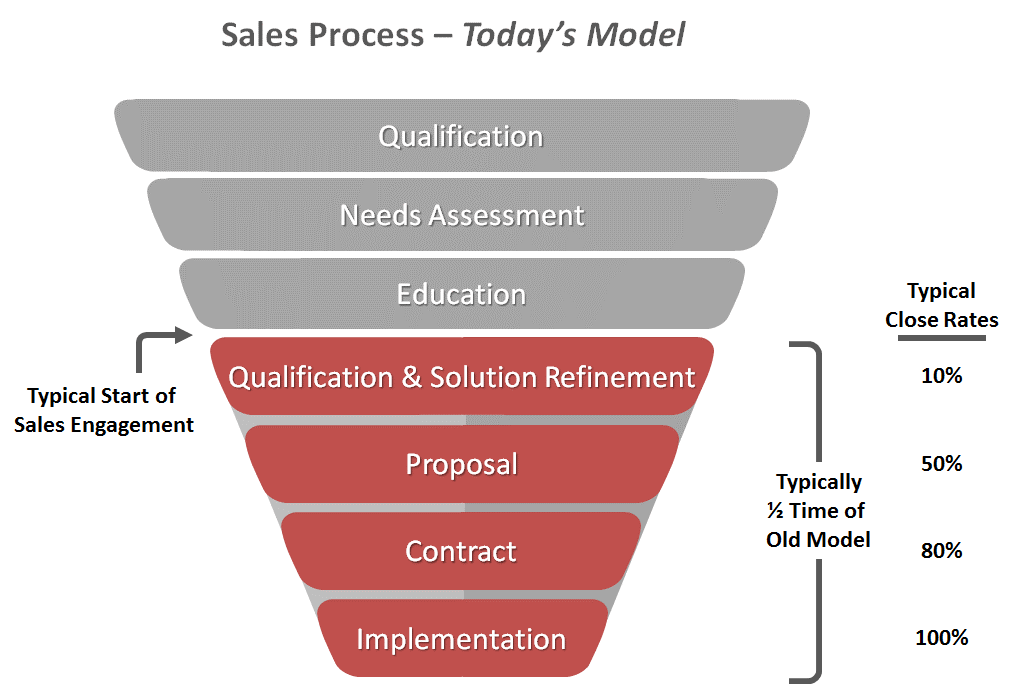 Source.Yimg
It is crucial to have a B2B sales process that involves proper research, demographics, and lead nurturing. Only then can you gain valuable and actionable results.
Here is a step-by-step guide to gaining more prospects through a B2B sales process.
Step 1: Do Your Research
High-level market research will help you understand the demands. Consequently, you can analyze your competitors and eventually determine the prospects to chase. If you do proper research, you will understand and become familiarized with strategical approaches used by various sources.
Note: You can use third-party data for all your marketing needs.
Step 2: Determine Buyer's Persona
According to 40% of sales representatives, the prospect stage is the most difficult. Hence, you need to be extra particular during this phase. Creating an ideal buyer's persona is crucial as it will determine the contextual information you need to proceed.
Step 3: Track the Buyer's Journey
These are the three stages that will make or break your brand – Awareness, Consideration, and Decision. In any sales process, identifying and tracking the sales journey of your prospects is the most important. Ideally, doing this will help you strategize the upcoming tactics and empower you to take the necessary steps in the process.
Step 4: Qualify the Leads
When you have a qualified lead, it is time for you to make the pitch. You can do that by inquiring about the problems and offering them proper solutions. Moreover, to finalize the lead and turn it into a prospect, you need to help them make the final purchase decision.
Step 5: Close the Deal
Once you can successfully inspire them to start a partnership with your business, you can complete your B2B sales deal. In this step, you need to provide an agreement to coordinate with admirations. Your onboarding process is now complete, and you can now commemorate your success.
Note: You should always keep track of the sales productivity, analyze lead response times and build a better conversion rate.
Top 5 Ways to Close B2B Deals – The Best Insider Techniques
Source: Gartner
Now that you have a sales process, you need to hold the B2B deal closing tips. It will help you scale up the industrial ladder and enhance your brand image. Above all, the best techniques will help bring in prospects and colossal ROI.
Through these tips, you can humanize your process of closing B2B sales. Be ready to solidify your sales strategies.
The Valuable Rule of Three
According to the Pipeline, the rule of three in B2B sales involves:
Additional Support
Price Discounts
Additional Services and Products
This rule will ensure your customers have a "feel good" essence. These values help communicate the true brand personality and lock your sale opportunity. Incorporating discounts and additional offers will streamline your revenue generation.
Understand Your Prospect and Subscribe to Their Content
The consumer market has become humanized over the years. So, even the B2B businesses will appreciate:
Eagerness to indulge in their content
Plutonic interaction with their consumer base
Sharing their content on social media
Keeping yourself updated with the prospect's social media, blog, or newsletter content would be best. This way, you can engage and gain valuable insight into the type of people they serve. It will help you create a better buyer's persona and establish a proper relationship with the prospect business.
Be Clear About Your Goals and Value Proposition
There are instances where salespeople failed to clarify:
A business's uniqueness amongst the competition
The offerings they provide and their values
Due to this failure, various companies will not buy from you. Therefore, you need to be clear about your requirements with the prospective business. You should ensure to be crystal clear about the value propositions of the services or products you offer.
Doing so will help enhance your B2B sales deal and cap it at a higher value with better stakes. It helps determine the prospect's problems. Consequently, it gives you the ability to articulate a reasonable offer to your customer and win at the sales game.
Sell Actionable Results Not Vague Promises
Various companies provide results that seem too good to be true. Sometimes, vague future goals can make your prospective business drop out of the list.
Hence, it is essential for you to:
Offer actionable results for your products and services
Give a proper roadmap based on the expected results or outcomes
This way, you can attract businesses to trust you and achieve a common goal together. In today's era, you should focus on selling streamlines business results that are tangible and attainable.
At the same time, your promises should also be explicit and complement your value propositions.
Keep the B2B Commitment Alive
Commitment should be the backbone of every B2B sales deal. An optimistic sales approach will have 57% better results than a pessimistic one. Hence, you need to:
Align your commitments without being assumptive
Be direct and secure your commitment
Keep the B2B commitment alive
Your brand loyalty and awareness will inadvertently increase when you adhere to these humane approaches. Moreover, the buyer will not have any remorse while working with you.
Did you know that almost 72% of various B2B buyers will share helpful information through emails? That calls for some committed B2B email campaigns to gain a better reach.
Common B2B Sales Mistakes – Things You are Doing Wrong
Even with a good marketing team, you can face various B2B sales closing issues. These may include low conversion rates and unsatisfactory performance. It can not only hamper your brand image but drastically minimize your sales volume.
Such issues arise from the root cause of B2B sales prospecting mistakes, like:
Unspecific lead generating techniques – To counter this, you will require a comprehensive ideal buyer's persona or prospect profile.
Complicated sales outreach – A simple outbound sales technique will be a better alternative to your overcomplicated approach.
No follow-up emails, texts, or calls – You must be persistent with all your leads, irrespective of their interest levels.
Intimidating sales conversations – Your salesperson might know more than the prospect, but they need to let the prospect take charge of the conversation.
No sales storytelling approach – The most negative B2B sales approach is to sell facts or features in any pitch; instead, go for a storytelling approach.
Another less-known mistake in B2B sales is taking things seriously and losing your image. Indeed, it would be best to have a sales pitch that resonates with your brand personality.
Remember – You only get a minimum of 7 seconds to catch the interest of your prospects, so make your brand unforgettable!
The Bottom Line
Closing a B2B sales or deal will require you to have a systematic and humane approach. Avoid mistakes like overcomplicated sales conversations or not using storytelling.
Instead, you need to have a proper sales process that includes intimidating sales conversations. It would be best to determine a buyer's persona by researching while mapping out a prospect's journey. Eventually, it will get you qualified leads, and you can now follow up and close the B2B deals. After that, you have to show optimal support to their business, subscribe to their content, and offer clear value propositions.
The best way to close deals is to make actionable promises. Also, remember to have a transparent commitment with your B2B prospects. Now, you are ready to complete your first B2B sales deal!