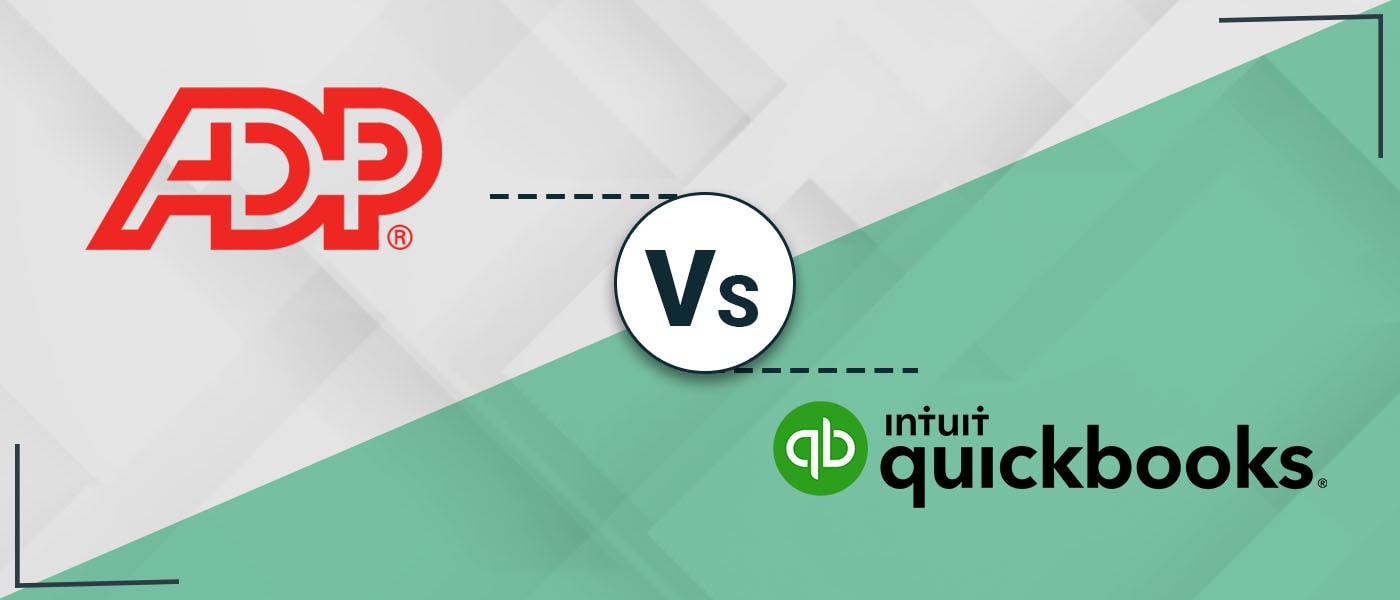 Have you ever heard about Payroll software?
Yes, the very software facilitates timely payment to employees in an organization.
Imagine, if there is no payment to employees at the right time, it could create mayhem in an organization!!!
So, to have a non-stop and efficient process, you should have the right payroll software.
The two popular payroll software in the market are ADP and QuickBooks Payroll. While both are great, businesses need to find the best fit.
If you're in a dilemma and don't know which payroll software to acquire, we'd help you out. Below you can find complete information on both software:
ADP:
ADP Payroll is used mainly by businesses at a growing phase and need solutions offering flexibility, and the answer can scale up quickly whenever required. So, if you're an organization looking to compound your business, ADP payroll software could prove to be a better option.
The features of this cloud-based payroll are it complies with legislative updates, payroll integrated with HR, cloud-based payroll, and expert payroll support. This software manages the complexities of daily tasks in an organization. ADP payroll services help deliver insights that facilitate businesses in making informed decisions. The solution enables both SMBs and large enterprises. The ADP payroll software is customized to meet the needs of different industry businesses. The pricing services are by quote only, and on factors such as how often your organization runs the payroll service, the current payroll data platform, the specific payroll one selects, and so on.
The software is designed to fulfill the hire-to-retire HR payroll solutions. It is termed accurate and, to a significant extent, an expertise solution. The ADP software program runs significantly, and it helps reduce errors significantly and offers deep compliance expertise.
The benefit of ADP is that it can integrate with much other popular software such as benefits administration, POS, learning, ERP productivity, recruiting and onboarding, time and attendance, and others. You can choose different add-ons from this software.
Many employees have used this software for retirement benefits and others. Almost 700,000 small businesses use this software across the world.
Advantages of ADP:
The software helps in automated online payroll processing
Self-service application for employees
Seamless integration with time tracking programs
The performance dashboard is helpful for the user
Saves time
Saves money
Are there any disadvantages of ADP payroll software?
Many users had issues with time-off policies.
The integration with other software like QuickBooks is challenging
QuickBooks Payroll:
This Payroll service is helpful for small businesses. The features of QuickBooks Payroll are employee portal, direct deposit, automatic tax calculations, and unlimited payroll runs. The crucial thing about the software is that it streamlines the process, leading to efficient payment to employees.
The QuickBooks self-employed in QuickBooks Payroll has unlimited and automatic payroll, T-sheet software, direct deposits, payroll taxes, and others. One of the crucial advantages of QuickBooks Payroll services is that plans help in the unlimited payroll. Hence employers can pay their employees semi-monthly, weekly, monthly, etc. This is an innovative feature of the payroll service.
The payroll T-sheet feature of QuickBooks payroll is an employee time tracking software helping make the payroll process seamless and more accessible. The QuickBooks payroll users have the facility to download payroll details, reports, tax payments, workers' compensation, and others.
More than 4.5 million businesses across the world trust this software. It is affordable; this is why companies use it in their process. With the help of QuickBooks Payroll, one can maintain the books via any device. The QuickBooks Payroll software has two versions: the advanced payroll and the standard payroll. This solution streamlines the accounting works. It has three options which are QuickBooks desktop enhanced, QuickBooks desktop basic, and QuickBooks desktop assisted full service. It can generate as many paychecks as one needs; only the employer needs to insert the number of hours.
The QuickBooks Payroll service is used primarily in the construction industry, healthcare, accounting, and other industries. The top countries that use this software are the United States, Canada, United Kingdom, Australia, and others.
Advantages of QuickBooks payroll software:
It helps in high-level of security
It helps in integrated accounting
Management of tax can be done easily
Submitting direct deposit payments
Processing paychecks
It keeps employee information organized
Auto payroll
Are there any disadvantages of this software?
It is expensive compared to others.
There is a lack of integrations.
ADP vs. Quickbooks Payroll Cost:
ADP Payroll Pricing:
ADP is quote-based
The trial period is for three months
Quickbooks Payroll Pricing:
You can use it for a 30-day free trial period.
This online accounting software has different core, premium, and Elite plans. The core plan costs around $45/month, the premium costs around $75/month, and the elite costs around $125/month.
Viewpoint:
You can see both QuickBooks and ADP payroll having their set of advantages and disadvantages. The significant difference between them is that one can have the trial of ADP payroll for three months while QuickBooks Payroll has a trial period of 1 month. The reason might be ADP Payroll is designed to meet the needs of fast-growing businesses, so within that time, users get to know whether the software can meet the ever-changing needs of companies. Later, if they are satisfied, they could acquire the software.
QuickBooks payroll is most suitable for small-sized businesses, while large enterprises and mid-sized companies can also use it.
QuickBooks has a transparent pricing system, while ADP has a quote-based system.
Conclusion:
Both QuickBooks Payroll and ADP software have pros and cons that organizations need to check. They need to find the most suitable one aligned with their process. With the proper integration, they can deliver excellent results.