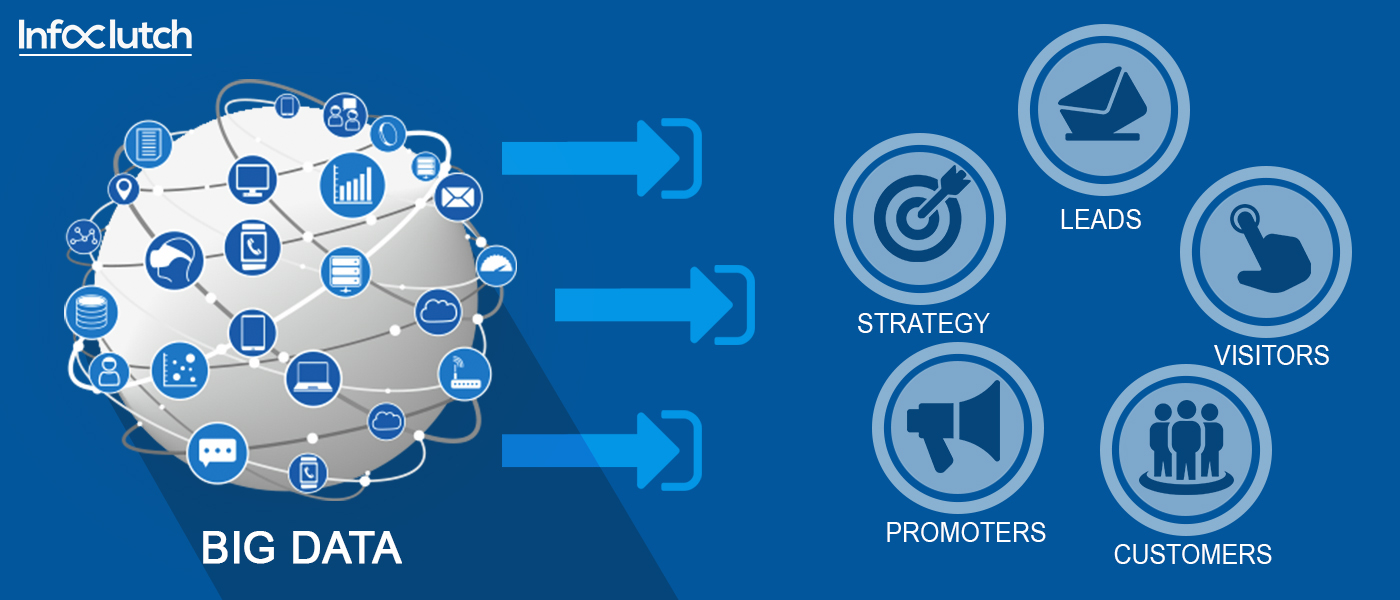 Sep 25, 2018
Posted By: Robert Jordan
Category: Big Data In Marketing
Information overload has been the plague of modern society, and it is our most valuable commodity. Accessing the critical and the right information needed to make quick and informed decisions can mean all the difference for the success of any organization. Today, Big Data has been the answer to deliver business-critical information to the people who are in need to run their business effectively.
If you are dealing with a B2B business, you must be well aware of the fact that there is more data collection of every interaction in the digital world than ever before. One of the biggest challenges isn't the availability of information, in fact, there is more data available on our smartphones than the president of US had 15 years ago. Big data analytics has taken its form to examine such massive amount of B2B data using specialized software tools, text mining, data mining, and applications for predictive analytics, data optimization, and forecasting.
With ever-growing competition, big data can tremendously impact companies focused on B2B space. It is the tool that has been beneficial in numerous ways, such as being able to focus on promotional efforts that are more likely to be receptive, identify new leads and various opportunities.
Data is widely available across all department. The key lies in utilizing it to drive more revenue and sales, starting with high-quality lead generation. Your company database may be a gold-mine of information, provided it is harmonized and can get you in the minds of the right audience.
Here is the list of 6 ways to transform Big Data into your marketing strategy:
1. Determine the specific content that moves prospects through the sales funnel:
Big Data is a tool that can help you understand your customer's habits so you can create content that appeals to their needs. It aids consumers to develop statistics, analytics and actual events based on the data. For instance, big data analytics gathers specific customers' data to know whether the customers use social media for product research or come in through another source. This assists marketers to create content that can go on social media or anything else.
Merely posting blogs on your websites or content on social media doesn't make sense. Before the existence of big data, blogs were published, and social media strategies were executed only with the feeling that it may have been working, but with no way to back the claim. However, today with tools like content scoring, one can analyze and illuminate which individual content assets wins you the deal and which ones are inefficient. This will compel marketers to hone on the strategies and derive content topics that resonate the buyers and urge them to purchase.
2. Personalize customer experience using Big Data:
Delivering the right message with a personalized experience has been the mantra for decades. Personalization and relevancy aren't just the qualities of a marketing channel, but they are the foundation for the successful marketing campaign.
Automation software along with big data will help you understand email click rates, open rates and consumer engagement with your brand. Besides, it gives marketers insights about who is interested in your product and engaged with your content in real-time. Integrating buyer's behavior into CRM systems allows you to track on your buyer's interests which further helps you send content that makes more sense.
3. Use Digital data to Clearly Define Your ICP:
If you are a B2B company focusing on marketing and sales resources, you must define your Ideal Customer Profile. It is one of the vital components that maximize the relevance of your marketing and sales efforts.
While the data that has been evolving dramatically in type, volume and velocity, there is a rapid evolution attributed to the digitalization. Storing data just on spreadsheets is not something that one may look during the age where IoT applications are taking a stand chance. Data generated by them is expected to be 600ZB per year by 2020, which is 33 times more than current data center traffic of 18 ZB as of 2018.
Which detailed information and data available in the form of age, demographics, and work profile, targeting the right audience has become exponential. Besides, the introduction of ICP (Ideal Customer Profiles), which is hugely aimed to makes marketers life easier.
4. Knowing Where to Focus your Marketing Efforts:
Even the most professional content may be of little or no use if it fails to find its right audience. While big data is the single most crucial factor in creating a thriving business model, it also helps you focus your marketing campaign into a lead generating machine. Big data here plays a better role to focus on marketing strategies, locate and identify the right demographics to ensure that the marketing efforts are making a positive impact on sales and revenue.
5. Leverage on a proven Big Data Strategy:
Like any other software, Big Data has many purposes and goals. It is suitable for businesses from any sector whether it is technology, finance, governmental agencies, public safety centers or customer service. It is used everywhere to attain sustainable results and comes with the below strategies.
a. Performance management: This approach involves using customers transactional data like customer purchase history, turnover and inventory levels to make decisions relating to operational supremacy and store management. This data is made available within the organization to make short and long-term decisions.
b. Data Exploration: This involves the use of data mining and research to find solutions that are not readily available with in-house data. It is primarily used by companies focusing on inbound marketing to generate insights into prospects behavior.
c. Social Analytics: Social Analytics is a form to measure data on various social media sites like Facebook, Twitter, Google + and Tumbler. It is based on the reviews, likes, and conversions on these platforms that the brand creates its awareness.
d. Decision Science: Decision science is more about exploring possibilities than measuring known objectives. Unlike social media, this involves extensive use of text and sentimental analysis to understand customer's opinions.
6. Big data helps gain greater customer insights:
As per the study by Forrester, 45% of the B2B companies are using big data and analytics to improve their responsiveness. Big Data is certainly revolutionizing the ways to attain more significant results. Most companies today use analytics and data mining to gain insights and to plan more relationship-driven strategies.
It comes into play by calculating several factors and get more information about the buyers based on the below metrics:
a. Average purchase size: Big data helps analyze the amount that the customers spends on, not just regarding price but based on its value. It helps marketers understand whether the personas are using promotions to buy the product or if it is any other factor.
b. Lifetime value: This is the money that each customer spends over the lifetime which is an indicator of the relationship that you have with your customers.
c. Acquisition costs: This is to determine what has been spent to attract the customer during the marketing.
d. Retention costs: This is what a marketer does to have the customers stay and make a purchase. At times, it may even cost more to keep them than that has been spent on acquiring them.
e. Customer happiness: This is one of the most critical factors which determines the success of your business. Big data helps you to investigate whether your customers are happy or unhappy.
f. Value alignment: This is to know whether it is your intended customers or target audience who are buying from you or if it is someone else. Value alignment helps you further refine your customer personas, mainly to keep you on the right path.
Wrap up: An organization that genuinely utilizes big data effectively is the one to understand their customers in a much better way. Thus if you want to grow your business into a potential one, you must use big data to get ahead of the pack.
The most sophisticated trends are now designed to change as marketers change, and so is Big Data. With its use, marketers are excelling at the lead nurturing by 50% more sales-ready leads, at 33% lower cost. So if there is anything new on the marketer's menu, it's Big Data.